is currently editing this page.
Tuesday, June 16, 2020
1:00 PM - Duration: 1 hour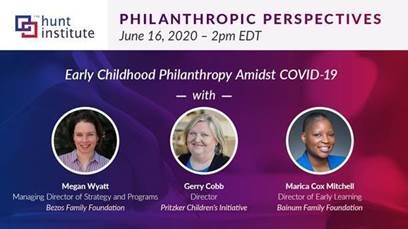 Alliance friends,
I'm very excited to share news of a new webinar series from The Hunt Institute: Early Childhood Philanthropy Amidst COVID-19. Each installment will include representation from both the field's biggest national funders alongside state and regional voices for conversation around the role of philanthropy, current funding priorities, and how/whether these are shifting in light of COVID-19. We hope this will be a great chance to question and hear directly from the funders helping to drive this work.
The first installment will be held Tuesday, June 16 at 2pm ET and feature:
Megan Wyatt, Managing Director of Strategy and Programs, Bezos Family Foundation
Gerry Cobb, Director, Pritzker Children's Initiative, and
Marica Cox Mitchell, Director of Early Learning Bainum Family Foundation.
We would so love to have you join us.