>
The Powerful Role of Faith-Based Community Webinar
is currently editing this page.
Wednesday, August 25, 2021
12:00 PM -
Expected

Duration: 1 hour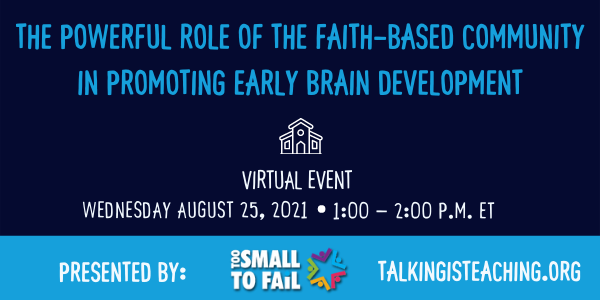 As the nation has grappled with the effects of the COVID-19 pandemic, faith-based institutions have proven to be a great source of information, hope, and comfort for families across the country. Throughout the pandemic, faith institutions and leaders have continued to provide families with critical services and support.
Too Small to Fail, the early childhood initiative of the Clinton Foundation, recognizes the positive impacts that faith leaders and institutions provide for families and invites you to join us on Wednesday, August 25 from 1:00 – 2:00 p.m. ET on Zoom to learn how you can support early learning and brain development in your local faith community. Too Small to Fail will feature faith-based leaders who have implemented an early learning strategy in their local faith institutions, and will share best practices, lessons learned, and recommendations for integrating early brain and language development into faith spaces. You also will hear from national leaders who have built programs in faith-based communities across the country.
To RSVP for the webinar, please register here.
Featured speakers include:
Dr. Martha Okafor, Executive Director, President of the United States COVID 19 Health Equity Task Force, who developed Smart and Secure Children, a parenting and leadership curriculum implemented in 13 states
Eunice Shaw Peek, Program Manager, Detroit Talking is Teaching Faith Initiative
Rev. V. Lonnie Peek Jr., Program Manager, Detroit Talking is Teaching Faith Initiative, who is also an Assistant Pastor at Greater Christ Baptist Church in Detroit
Chris Thrasher, Senior Director of Substance Use Disorders and Recovery, Clinton Foundation, who is leading a national initiative in faith-based communities
Deacon Darrell Walker, Talking is Teaching Coordinator, First Baptist Church North Tulsa
You will also be the first to hear about a new training opportunity for faith leaders, as well as an opportunity to apply for a microgrant to integrate the work into your own community.