is currently editing this page.
Tuesday, June 1, 2021
7:00 PM -
Expected

Duration: 1.5 hours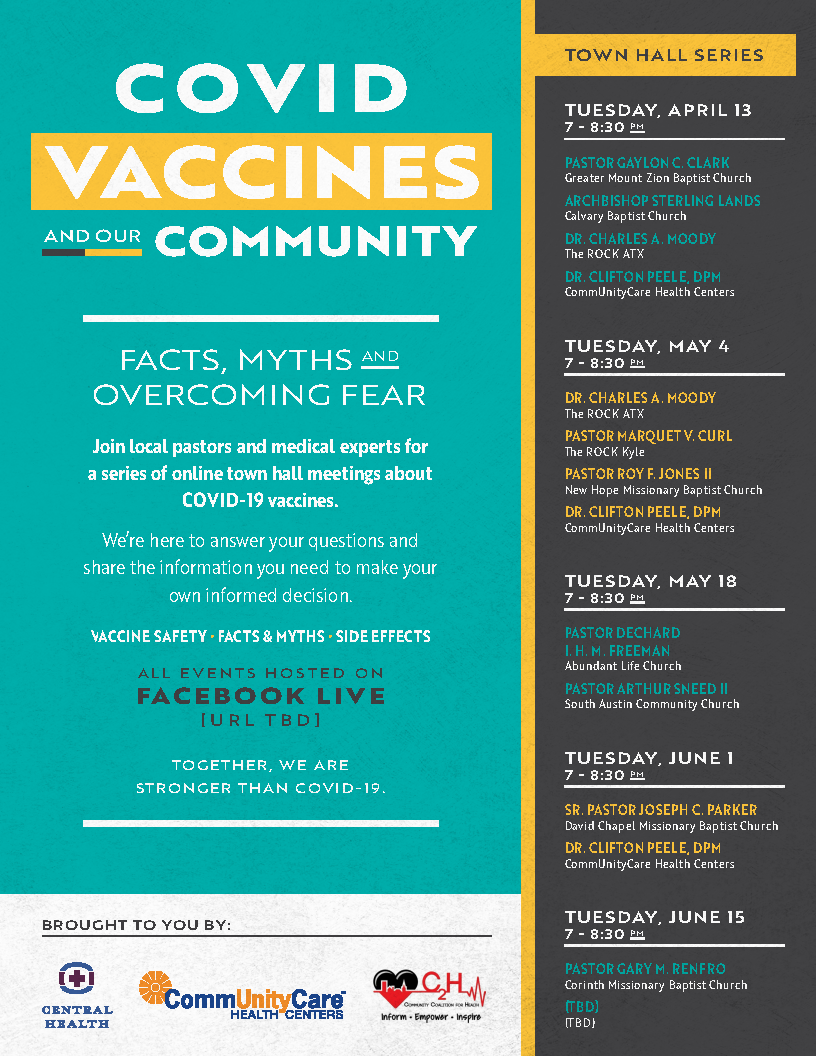 Join local pastors and medical experts for a series of online town hall meetings about COVID-19 vaccines. We're here to answer your questions and share the information you need to make your own informed decision.
Register for the June 1 Event Here

VACCINE SAFETY • FACTS & MYTHS • SIDE EFFECTS
ALL EVENTS HOSTED ON FACEBOOK LIVE
TOGETHER, WE ARE STRONGER THAN COVID-19.
TOWN HALL SERIES
TUESDAY, APRIL 13
7 - 8:30 PM
PASTOR GAYLON C. CLARK
Greater Mount Zion Baptist Church
ARCHBISHOP STERLING LANDS
Calvary Baptist Church
DR. CHARLES A. MOODY
The ROCK ATX
DR. CLIFTON PEELE, DPM
CommUnityCare Health Centers
Register for the April 13 Event
TUESDAY, MAY 4
7 - 8:30 PM
DR. CHARLES A. MOODY
The ROCK ATX
PASTOR MARQUET V. CURL
The ROCK Kyle
PASTOR ROY F. JONES II
New Hope Missionary Baptist Church
DR. CLIFTON PEELE, DPM
CommUnityCare Health Centers
TUESDAY, MAY 18
7 - 8:30 PM
PASTOR DECHARD
I. H. M. FREEMAN
Abundant Life Church
PASTOR ARTHUR SNEED II
South Austin Community Church
TUESDAY, JUNE 1
7 - 8:30 PM
SR. PASTOR JOSEPH C. PARKER
David Chapel Missionary Baptist Church
DR. CLIFTON PEELE, DPM
CommUnityCare Health Centers
TUESDAY, JUNE 15
7 - 8:30 PM
PASTOR GARY M. RENFRO
Corinth Missionary Baptist Church
(TBD)