Friends, families and supporters who are dedicated to your mission are your best donors and volunteers
Turn your clients' networks of supportive family and friends into your best fundraising ambassadors. Engagement Communities™ software from MissionBox is your answer to educating, informing and supporting those most loyal to your nonprofit.
Affordable, completely customizable and user-friendly. Try it for yourself by booking a live demo today.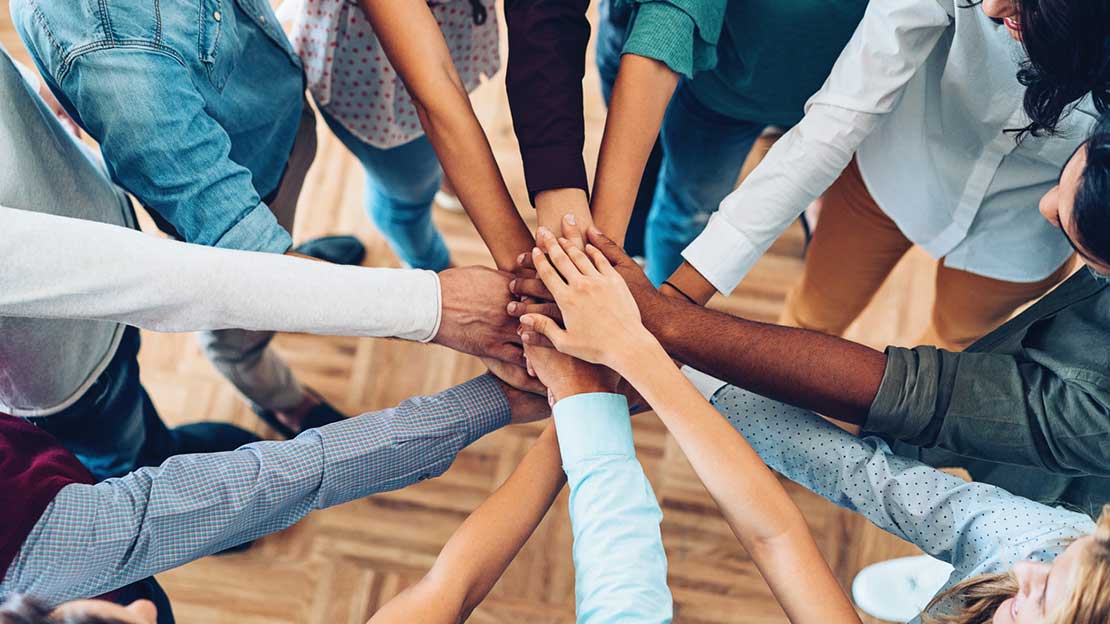 Advocates & supporters are not getting the information they need to continue supporting your nonprofit
Supporters are loyal to your mission and your nonprofit if they remain engaged and interested. Affinity groups want to help your organization. Give them the excitement and information they need to build a caring, sharing community.
Engagement Communities™ allows you to keep loyal supporters engaged, excited and informed with a secure, one-stop community building hub.
Educate, inform & support those loyal to your mission to retain their loyalty
Those who care about your mission and have a personal connection to the social good you strive to provide are also your best potential volunteers, donors and ambassadors.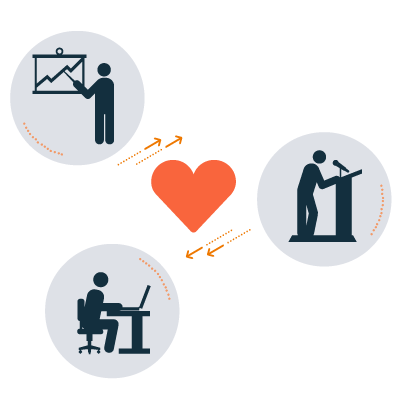 Engagement Communities™ Features
Creating supporter engagement is "where it's at" in terms of effective retention strategies. MissionBox Engagement Communities™ provides one secure, branded online center to access all of the great features below. Best of all, all tools are accessed via a unique username and password in a guaranteed private, managed environment, available through any device, both desktop and mobile.
Communication
Invitations
Social Media Sharing
Interactive Forums/ Q&A
Shared Videos
Simple Surveys
Budgets
Electronic Document Storage and Retrieval
Supports Multiple Languages
Collaboration
Event Scheduling
Shared Documents
Document Co-Editing
User Feedback
Approvals
Evaluations
Unlimited Users
Education
Operations and Mission
Delivery Training
News and other articles
Onboarding
Reports
Reviews
Financial Statements
How-Tos/ Templates
Inspiration
Case Studies
Success Stories
Outcomes/ Performance
Reports
Personal and Colleague Connections
Photo & Video Galleries
Announcements/ Introductions
Join the Nonprofit Engagement Revolution. Book Your Live Demo Today!
Words From A Satisfied Client
The RIVET Engagement Community from MissionBox has been so amazing. It has allowed me to share information & events directly with my intended audience, those with learning differences and their families. Our families want to connect with other folks sharing the same questions and challenges and have a safe place to share stories, pool resources and receive support. I am not a very technical person, but the software is very simple and user friendly — even for me!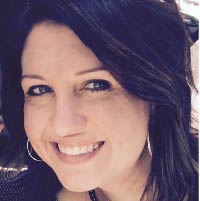 Rachel Bullock
Founder & Executive Director RIVET
See for yourself why nonprofits love our software for keeping supporters engaged
With Engagement Communities™, you can educate, inform and support consumers, family & friends all on one easy-to-access, easy-to-use platform.
Click the sample Engagement Communities™ page to see what your Advocacy interactive group page could look like.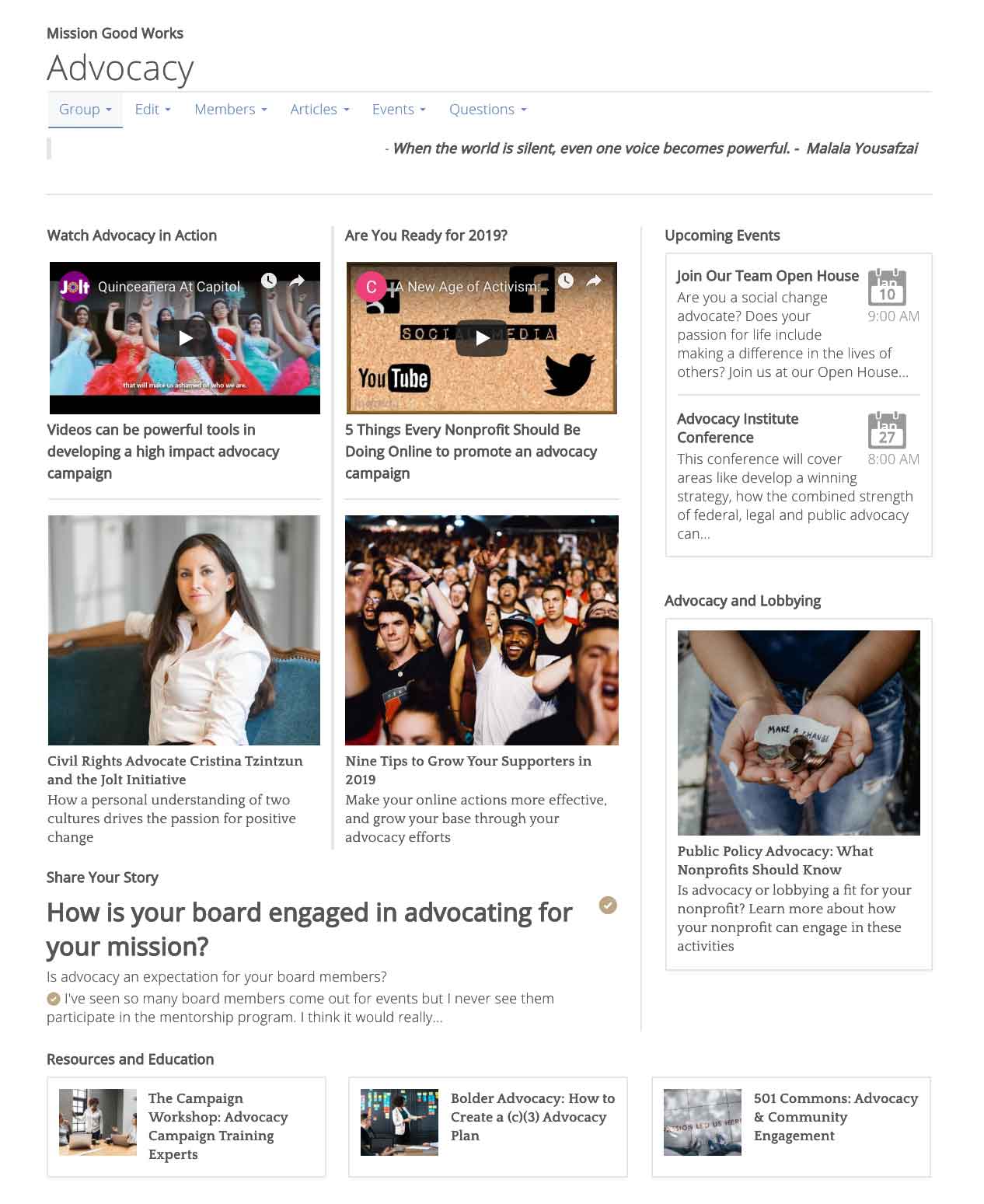 Additional Benefits of Engagement Communities™
MissionBox Engagement Communities™ replaces 13 different online communication, education and inspiration tools - all in a customizable and confidential environment.
Optimizes document management
Guarantees privacy for ALL individuals and groups
Built for nonprofits by nonprofit experts
Customer Success Support always available
Replaces multiple communications and collaboration tools
Saves an average of 1.5 work days, per week, that can be redirected to mission delivery
Provides unlimited user seats and unlimited cloud storage
Offers targeted access to over 1,000 missionbox.com nonprofit education and training videos
Mobile device and tablet enabled
A Message From Our CEO
One of the biggest challenges nonprofits face today is to become dramatically more engaged with all constituents, while staying mission-focused and making a real social impact. Constituent engagement is the critical component to nonprofit financial sustainability and overall survival. Our hundreds of thousands of MissionBox readers have confirmed that constituent engagement is a priority and they are ready to join the Engagement Revolution!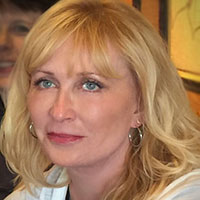 Kathryn Engelhardt-Cronk,
CEO of MissionBox