Tips and good practice from the Royal Academy of Dance
Originally published: January 2018
"Social media allows membership organizations to amplify their message and — if done correctly — increase engagement levels," says Richard Gott, founder and chair of MemberWise, a free, professional network of over 4,500 membership organizations and associations. "But they face a lot of digital white noise from a range of sources so the challenge is to raise member communications above this."
Part of the MemberWise community, the Royal Academy of Dance (RAD) rolled out its first Instagram membership campaign in 2017 to increase engagement with its 14,000 members (including professional dance teachers) worldwide.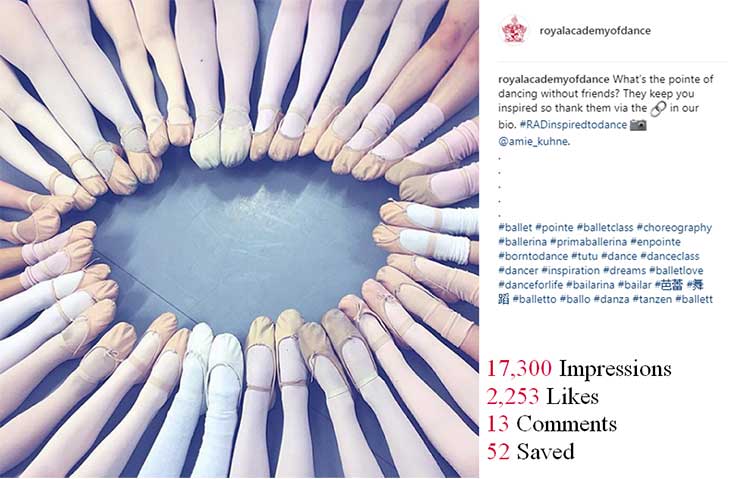 As a global organization, social media plays a big role in engaging members; RAD has accounts on Facebook, Twitter, Instagram, LinkedIn, YouTube and Vimeo. Instagram, however — which the RAD joined in September 2015 — was used primarily to target students, dance enthusiasts and the general public, rather than focusing on members.
From 2011-2016, the RAD ran a photo competition for members, promoting it on Facebook and Twitter, as well as through email and print newsletters. In summer 2017, the organization decided to try something new, launching the Inspired to Dance campaign on Instagram asking members to submit a photo of who or what inspired them to dance.
So why the change in direction? Press and social media officer Nima Naik says although the RAD's Instagram audience is its fastest growing group on social media (reaching almost 40,000 followers in the space of two years), it is also its most predictable audience group. "It's easy for us to follow trends and publish content that we know our Instagram audience will like: they love to support dance communities and are very responsive to questions. Even if people were not members, we felt they could still contribute to the conversation."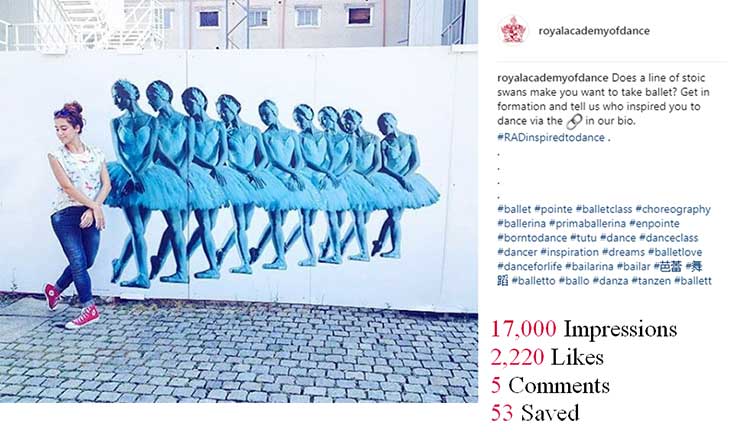 The Instagram campaign was a soft-sell, adds Naik. "Rather than pushing people to submit their photos, we were encouraging discussion. This platform is all about instant gratification (it's in the name!) and grabbing attention with a strong image. The copy and a call to action come after that so rather than using specific member messages, the campaign led on high quality imagery."
Plus, as Naik explains, "it's difficult to use the platform for hard selling because copy is truncated and often followers will not click to read more." Links in the post copy are also not hyperlinked which means it takes users an extra step to leave the platform and visit the RAD website.
How did the RAD measure success? And how did they do? To enter the photo competition, Instagram followers had to visit the RAD website. Naik included a tracking code in the RAD's Instagram bio to keep tabs on how many people were clicking on links. In total, there were only 77 link clicks over the two-month period that the campaign ran.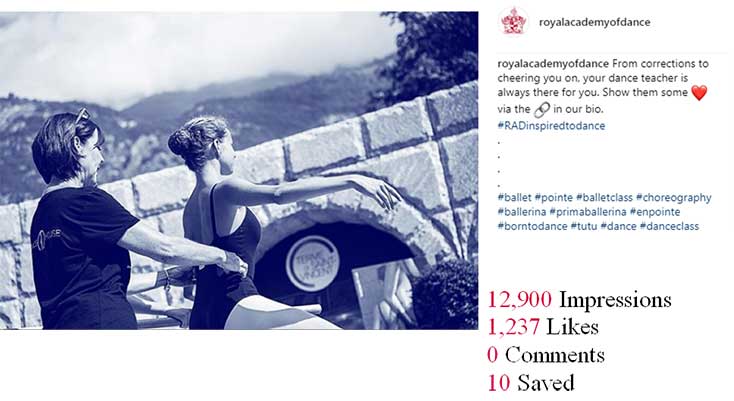 As the purpose of the campaign was for members to enter the competition, this might have been perceived as a failure, but Naik points out they were successful in opening up conversations about RAD membership on a new platform. Members of the Instagram community would comment on photos and interact with the RAD. Naik adds: "This is a subtle way to highlight a membership benefit (competition winners received some great prizes) and would appeal to people who are active on Instagram."
Overall, RAD posted eight Instagram posts (one a week, over the space of two months) garnering 128,000 impressions, over 15,000 likes and almost 80 comments.
While likes help you to increase reach, they are a passive form of engagement, says Naik. "We value comments much higher. They helped us to create a discussion on the topic. Even if people did not submit a photo, it was important to us that they took part in the conversation."
What about Instagram followers? The organization generally sees a gain of 1,000-1,500 new followers monthly (all organic rather than paid for), but wasn't able to determine who followed specifically as a result of the campaign.
Success factors

What helped the RAD achieve this level of engagement? In January 2017, the charity had adopted a content-led approach for Instagram that prioritizes imagery over sales messaging, and a focus on community engagement, not conversions.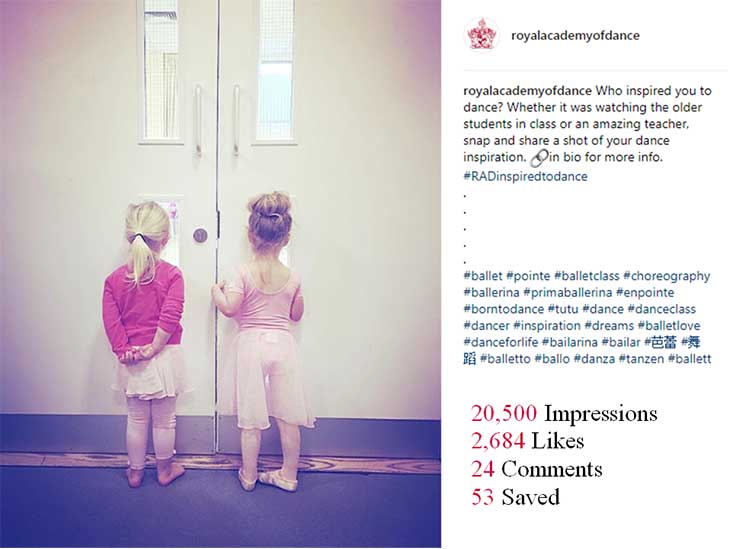 Naik believes this helps her team stay focused on posting suitable content. "It means more forward planning and being selective about what can go on our different accounts: we get social media requests from a variety of RAD departments and as part of our strategy, we'll find the most appropriate channels for these messages."
The team used this approach when planning content for the Inspired to Dance campaign.
Lessons learned

Instagram followers expect striking imagery and minimal text: "While you can get away with mobile phone photos on Twitter or slightly lengthier copy on Facebook, we have found that our Instagram audience is very discerning," says Naik.
But it's not just about looking at a single post or one image at a time. "On Instagram, it's important how your profile looks as a whole," says Naik. "Your grid should have a consistent look and develop a predictable aesthetic." The RAD's Instagram images are generally light, bright and sharp with pink and blue hues, and carefully edited in PhotoShop or in the Instagram app itself before being posted.
And while the image is important, explains Naik, thoughtfully written captions allow you to direct your audience behaviour with a call to action. "Also, if you're looking for comments or audience feedback and interaction, be sure to ask a question," advises Naik. "Plus if you want to increase your reach, ask people to tag others in the comments."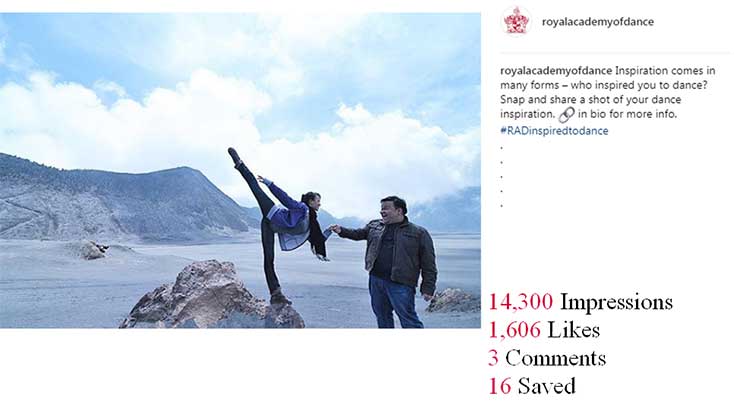 The Royal Academy of Dance presented its Instagram campaign at the MemberWise Digital Excellence conference in 2017. Find out how membership organizations can use digital to recruit, retain and engage members at the London-based MemberWise Digital Excellence 2018 conference.

Read about how the World Association of Girl Guides and Girl Scouts (also part of the MemberWise network) has introduced new digital tools and technology to recruit global members.