Proven social media strategies that will grow your following
Does your nonprofit have a plan in place for leveraging social media to get your message out to the world? The sheer number of social media platforms available can feel overwhelming. You'll need a solid plan in place to efficiently use different social media options at your nonprofit. There are literally dozens of social media channels to choose from, hundreds of features within different channels, and just as many tactics for each.
Understand the purpose and function of social media, so you won't feel like you're spinning your wheels without much to show for your efforts. We talk about things like: the best times to post on Facebook, Twitter, and Instagram, the best type of content for social media, how to track and measure your campaigns, and what makes up a great social media plan.
#1. The right channel for the right cause
Each social media platform has a different purpose, look, functionality and audience. Here's how the different channels shake out:
Facebook. Focused on news and entertainment, plus personal connections. Livestreaming is taking off on Facebook and is currently directing more website referral than any other social media channel.
Twitter. Primarily a news and conversation tool, Twitter is good for announcements and links to content. Livestreaming video is also popular.
Instagram. Bought by Facebook in 2012, Instagram is an image-based social channel that disallows links to websites, but can be used by nonprofits as a tool to engage audience.
SnapChat. Another image-sharing platform, SnapChat can be used for different interactive tasks, like messaging, sharing stories via images and live video.
Pinterest. An "inspirational" channel, used mostly for creative purposes.
Google+. Google's answer to Facebook, Google+ is an umbrella social channel across the suite of Google's web-based properties.
#2. Know your target audience
Finding the target audience for your nonprofit is more important than ever. Knowing your audience will help guide your decision on which social media platform will best reach them. Once you've identified and analyzed who your audience is, you can start creating a social media strategy.
Remember to carefully analyze the data about your audience. Pay attention to things like geography, demographics (gender, ages, education, income levels) and how often they respond to content. And develop marketing personas for your target audiences. Use these personas to set up specific user profiles, and scenarios to help pinpoint your messaging.
#3. Key Progress Indicators (KPIs)
Do you know how well your social media plan is performing? Key Progress Indicators, more commonly known as KPIs, will help you know where you're succeeding and where you may need to rethink your efforts. In general, KPIs fall into four different categories:
Awareness. Measure awareness of your nonprofit's reach with impressions and views of your social content.
Growth. With followers, likes and shares, you'll easily know whether your audience is growing, levelling off or declining.
Engagement. Does your audience participate in conversations, clicks and shares of your social media?
Conversions. Measure your conversion rate with event registration numbers, donations and contributions, and recruitment.
Get started on setting your KPI metrics by looking at past performance of your social channels, industry averages and your marketing and development goals.
#4. Create robust account profiles
Creating a profile on a social media platform that stands out from others can take some time and effort, but it will be worth it. Why? The information you include in your profile will not only tell a better story, but will also tell the platform how to categorize your nonprofit — important because "page suggestions" or "who to follow" will give you a broader reach.
#5 Hire dedicated social media staff
For those who are new to social media, it may seem strange to suggest that you need dedicated staff managing your organization's social plan. Changes in trends, requirements and rules happen frequently, especially across multiple social channels. Hiring a dedicated social media manager means other staff can focus on their primary jobs.
#6 Integration
Now that you've got your social up and running, you should start leveraging it for cross-promotion across your organization.
Your website should have social follow buttons, preferably "above the fold" on your page. Make it easy for people to find them
If you have a blog, use sharing options for every post.
Popups, if you use them, should include social follow buttons.
Integrate your different social channels by including links between your Facebook and Instagram accounts. For example, add links to other platforms in bios or "About us" features.
Use your email newsletters to promote your presence on different platforms. Your newsletters should include information about your social presence. Ask your subscribers to follow or share.
If your nonprofit is hosting events or fundraisers, be sure to use social media to promote them and to engage your followers.
#7 Timing is everything
Be strategic when building up your social audience. Understanding when and where users are in the social media world is vital if you want to get your message out efficiently. Trends show that users tend to be on different social platforms at different times of the day. According to Nathan Ellering on Co-Schedule, these are the prime days and times that social media users tend to be online:
Facebook: Thursdays, Fridays, Saturdays, and Sundays at 9 am, 1 pm, and 3 pm are generally the best for reach and engagement. Saturdays and Sundays for the highest engagement. Posting at 3 pm will get the most clicks. Posting at 1 pm will get the most shares
Twitter: Wednesdays at 12 pm, 3 pm, 5 pm and 6 pm, during people's lunch break and on their commute
Instagram: Mondays and Thursdays between 8 am – 9 am
LinkedIn: Tuesdays, Wednesdays, and Thursdays at 5 pm
Pinterest: Saturdays between 8pm – 11pm
Google+: Wednesdays between 9 am – 11 am
#8 Build — and keep — a content calendar
Now that you know the optimal time frame for posting and promoting, next is building out a content calendar for your posts.
And it's not just when you post, but also how often you post content that matters. If your organization is smaller or you're working on building your social media following, Try to stay on the low end of these recommended numbers.
Facebook: 1-4 times per day depending on the size of your following
Twitter: 3-10 times per day
Instagram: 1-2 times per day
SnapChat: 1-2 times per week
Google+ and LinkedIn: 1-2 times per day
#9 Keep a positive tone
Content that is happy, positive, funny, surprising or exciting will get more engagement and shares than posts with a negative vibe. In a 2014 study of Facebook posts at Cornell University, researchers found that generally "emotions expressed via online social networks influence the moods of others." If you want supporters to help spread your message, it may be best if you keep most of your social content with a positive spin.
#10 Visual content draws attention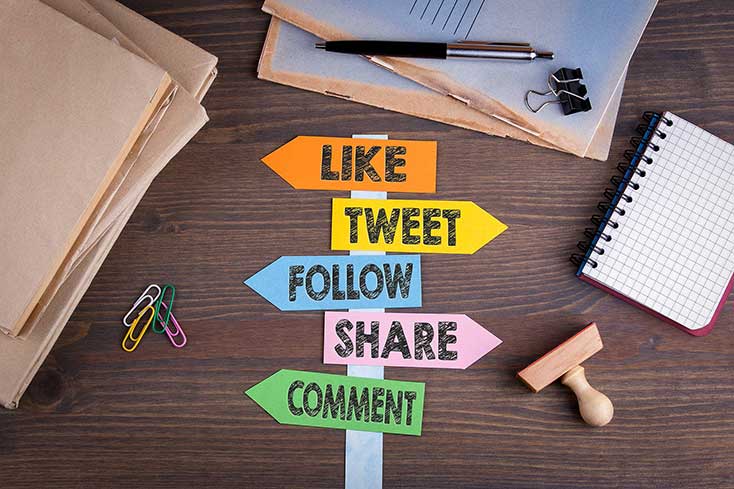 Your fans and followers are 44 percent more likely to engage with and share content that contains imagery. Your content can be enhanced with different image-based formats:
GIFs
Quotes
Short videos or video streams
Infographics
Emoticons (posts with emoticons get a 57 percent higher like rate and 33 percent higher share rate)
These 10 tips are just a part of what your organization can do to get social media at your nonprofit up and running. Visit Media Cause to read the full list of 25 ideas and strategies for your nonprofit social media plan.