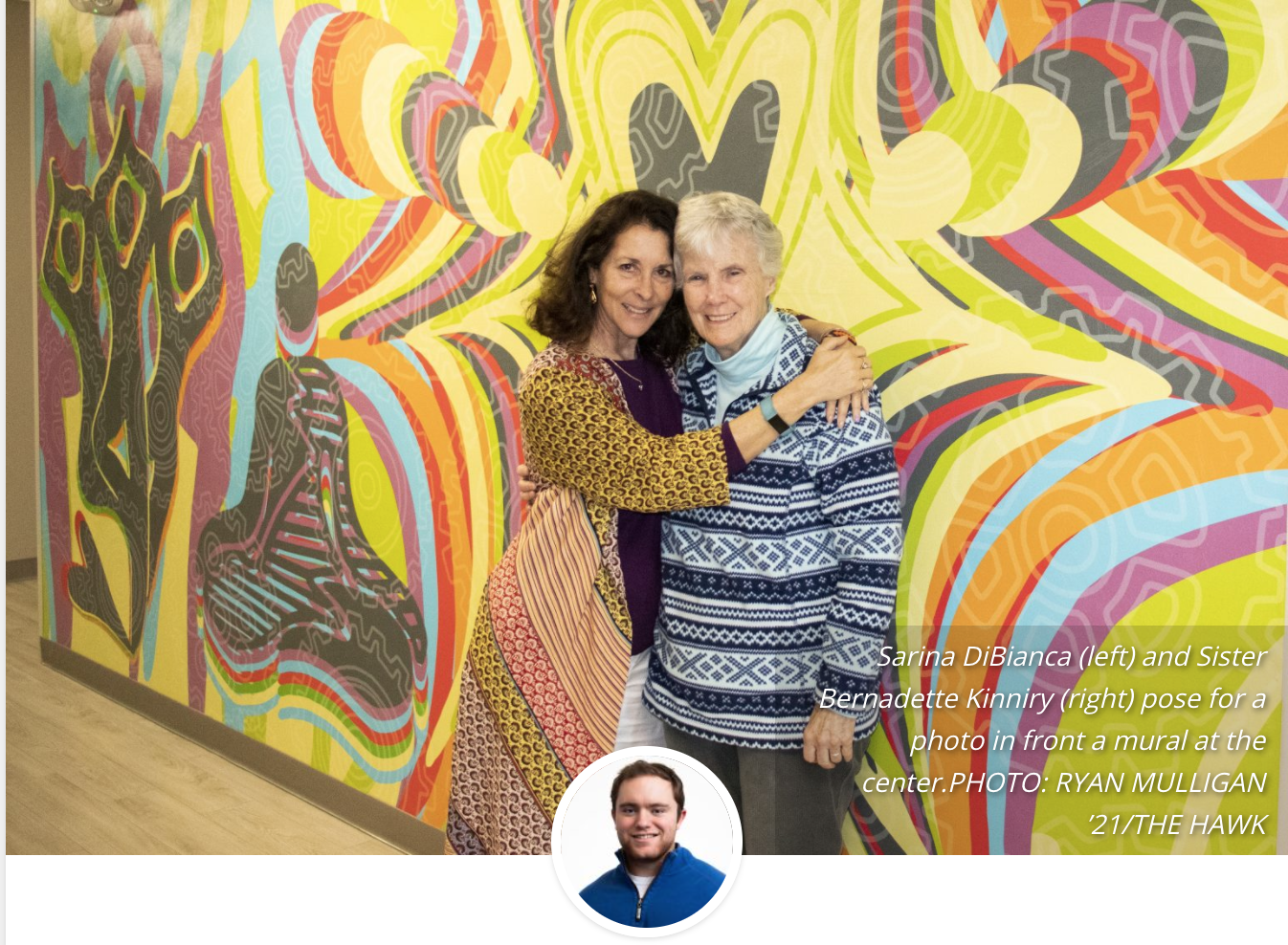 Siloam, a non-profit that provides mind, body and spiritual wellness programs for individuals living with HIV/AIDS, will celebrate its 25th anniversary, in May. At the celebration, a St. Joe's coaching icon will add another honor to a long list of accolades.
On social media, Siloam has dubbed the first day of the work week "Martelli Mondays," posting photos to honor the former men's basketball Head Coach Phil Martelli. It was another Martelli however, that found solace in the open arms of Siloam.
"The reason I got involved with Siloam was because of my brother," Steve Martelli, the brother of Phil Martelli, said. "He knew that I was in Philadelphia without a home, an HIV positive home. I've been positive since 1987. The odd thing is that, although I'm HIV positive, my brother was the one that really knew about the organization."
Siloam was founded in 1995 by Sister Bernadette Kinniry and Father Don Reilly and is now operated by Kinniry and executive director Sarina DiBianca.
"We like to call people that come to Siloam our friends because we don't do anything clinical," DiBianca said. "What I see is that they have superhuman strength, they have faith that is deeper than anything you or I can imagine."
Kinniry, who Steve Martelli described as a "firecracker" began the organization after a conversation she had with a man living with AIDS, saying that she felt she was called to work with people suffering from the disease.
"As I kept speaking to him I was thinking, 'He could be my brother' and then deep in me I heard, 'He is your brother'," Kinniry said. "We started [Siloam] and we wanted to create a safe space for persons who were living with AIDS and for their loved ones. A place where people could be themselves and where they could be nurtured, mind, body and spirit no matter what their background, no matter their sexual orientation, no matter what religion or non-religion they were, we wanted it to be open to all people."
For the Martellis, Siloam truly is a family affair. Martelli's sister, Marianne, opens her house up to the friends of Siloam for holidays, often cooking Thanksgiving dinner for them.
"Some people don't have families to count on so we always open up our house to those people," Steve Martelli said.
DiBianca said that when Phil Martelli is around Siloam, he isn't the nationally recognized basketball coach, but rather just another part of the Siloam family.
"Phil is an incredible individual, whether he coached basketball or not, the family is just an incredible family," DiBianca said. "Phil has been an incredible source of strength. Taking aside what Phil does for a living, when we see him and sit down and talk with him, he is very charismatic but he's also so down to earth. You can just feel the love and the genuineness. He's not putting on airs. That's genuinely who he is and he really cares."
Steve Martelli doesn't only receive support from his brother Phil, but he has also found that the people alongside him at Siloam have been an unparalleled source of comfort and empowerment.
"One thing is we have a support group that is really great," Martelli said. "An amazingly diverse group of people. Their life experiences are so vastly different than mine so that expands horizons. It was there that I first met someone who had dementia which I had and I survived. The only other person in all these years to survive that I met was at Siloam. It's like, 'Wow, you've lived my experience." It's phenomenal to have someone that's been there. That's a very powerful experience."
According to DiBianca and Kinniry, the ability to be in solidarity with people living with HIV/AIDS is one of the most important parts of the mission and the community that Siloam has worked to build. Their community is growing, too. Their number of "friends" doubled from 2018 to 2019. In 2019, people living with HIV/AIDS used their services 5,000 times, according to DiBianca.
"I didn't ever know that this would be possible, but here it is," DiBianca said. "Here we are with a new day that allowed that isolation and that stigma for people to break."
As integral as Siloam is to the Philadelphia community and as necessary as it is in the lives of the people who utilize its services, the organization is completely independent of any federal funding and relies on donations to continue keeping its doors open. 91% of the Siloam community lives under the poverty line. To further Siloam's uphill battle, Kinniry said that because of the stigma behind HIV/AIDS, it can be difficult to find donors. That is why they are so grateful for the support of the Hawk coaching legend and a big reason why he will be honored at their May 3 celebration.
"It means a whole lot because there's such a stigma still," Kinniry said. "[Phil Martelli] is very grateful that we're doing what we're doing and he's grateful to know that we're continuing, and it is a miracle that we're continuing. We know that more than anybody. Nobody wants to give money to people living with HIV/AIDS, but they deserve it."
Donations to Siloam can be made at https://www.siloamwellness.org/donate .
Tickets to the 25th Anniversary Celebration can be purchased at https://one.bidpal.net/siloam25 .