Our state Workforce Solutions partner, the Texas Workforce Commission, has launched an exciting new funding program.
The Child Care Relief Fund will accept applications from eligible center and home-based child care businesses from June 11, 2021, to July 11, 2021. You will receive an email from the Texas Workforce Commission on June 11 to apply.
To receive the Child Care Relief Fund your child care business must be: A licensed or registered child care center or home;
Open and operating in Texas as of May 1, 2021; and
Not currently on corrective or adverse action with Texas Health and Human Services Commission Child Care Regulation.
You can also receive FREE business coaching all year, including help applying for this funding. If you have any questions or need help, don't hesitate to reach out to the business technical assistance team at Texas@ECEBizCoach.org.
Remember — the funding portal closes July 11, 2021, so please act soon.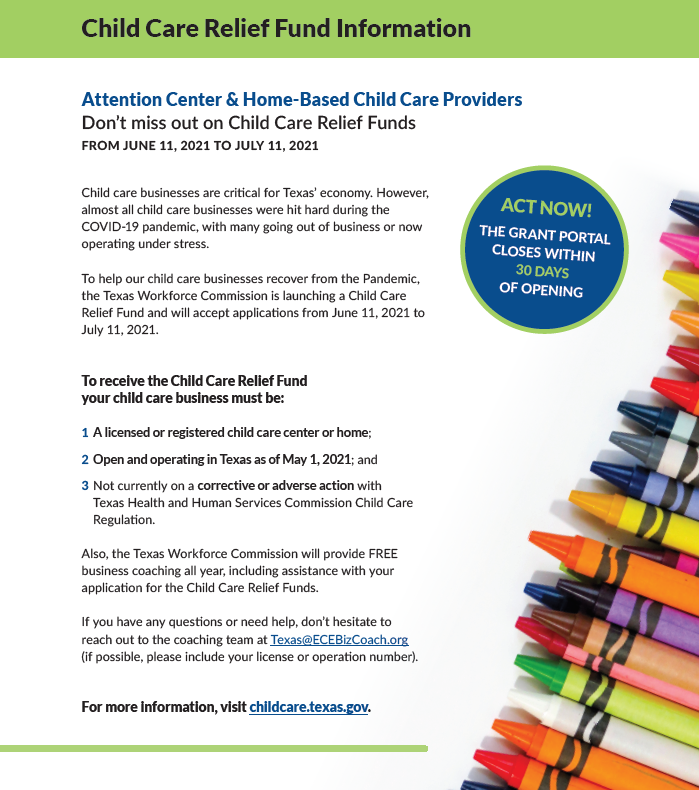 ---
Nuestro socio estatal de Workforce Solutions, la Comisión de la Fuerza Laboral de Texas ha lanzado un nuevo y grandioso programa de financiación que le ayudará a acceder fondos de auxilio para su negocio.
El Fondo de Ayuda para Cuidado Infantil aceptará solicitudes de centros elegibles y empresas de cuidado infantil en el hogar desde el 11 de junio de 2021 hasta el 11 de julio de 2021. Recibirá un correo electrónico de la Comisión de la Fuerza Laboral de Texas el 11 de junio para aplicar.
Para acceder estos fondos de ayuda, su centro o negocio de cuidado infantil debe:
Ser un centro u hogar de cuidado infantil registrado o con licencia
Estar abierto y operando en Texas a partir del primero de mayo de 2021; y
Estar sin una acción correctiva o adversa con el Reglamento de Cuidado Infantil de la Comisión de Salud y Servicios Humanos de Texas.
También puede recibir asesoramiento empresarial GRATUITO durante todo el año, incluso recibirá ayuda para solicitar estos fondos. Si tiene alguna pregunta o necesita ayuda, no dude en comunicarse con el equipo de asistencia técnica empresarialen Texas@ECEBizCoach.org.
Recuerde: el portal de financiación cierra el 11 de julio de 2021, así que actúe pronto.