Dear Child Care Providers,
Please take note of the following updates from Austin Public Health (APH). We ask that you share this information with staff and families in your program and with your own friends and family. Please also continue to make use of the CDC's COVID-19 Vaccine Toolkit for Schools for sharing information with staff and families about COVID-19 vaccines.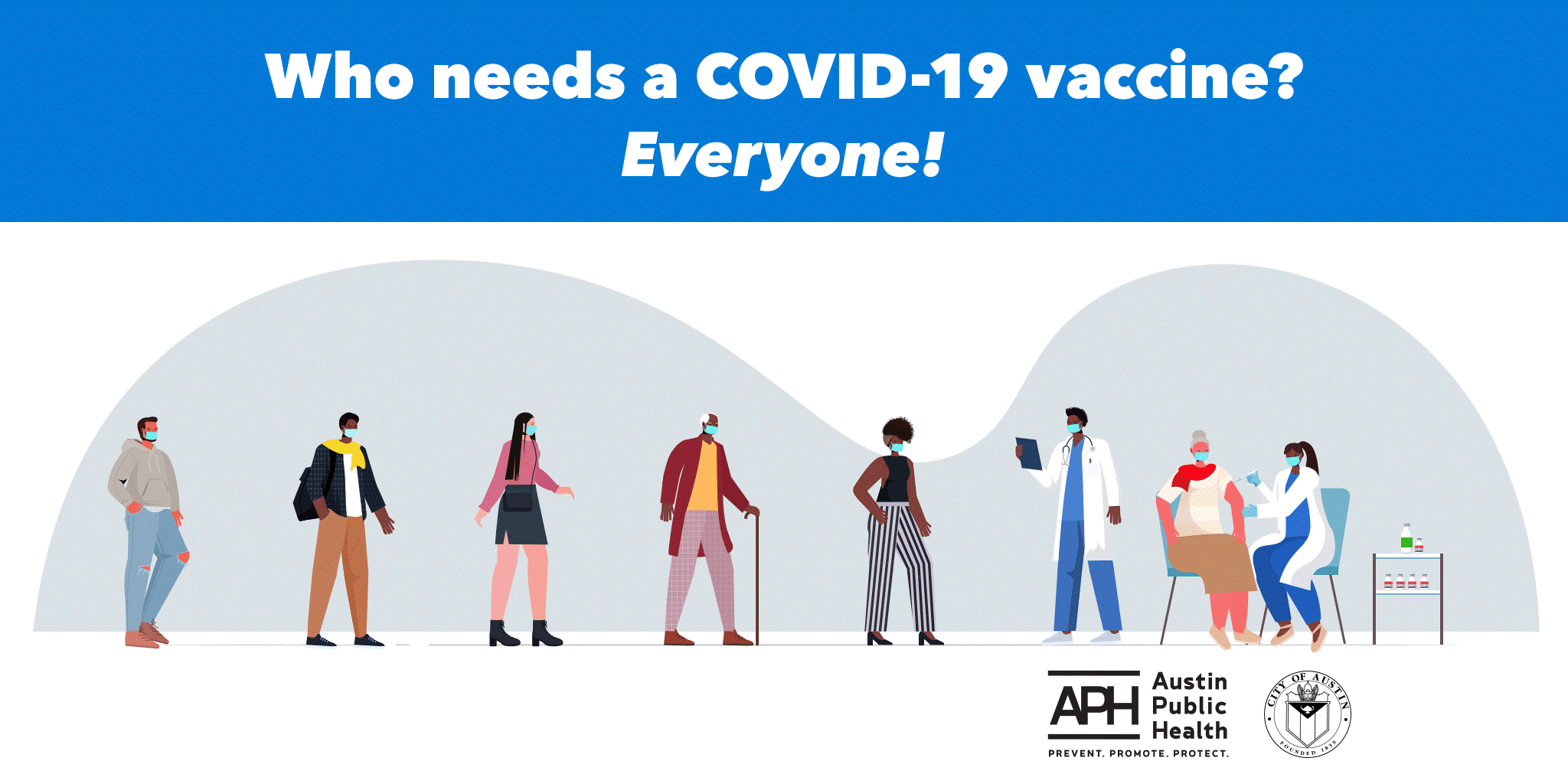 Connecting the Child Care Workforce with Vaccines
Beginning this week, APH is expanding online vaccine scheduling and piloting a walk-up (no appointment necessary) option for vaccinations. The walk-up pilot program will be 4/22 and 4/23 at Delco Activity Center, from noon – 7:30pm. It is for residents 18 years of age and older (see more details below). Child care staff are encouraged to schedule their own first dose appointments with APH online or by telephone, or to use the walk-up option this week. Child care staff may also seek out vaccine from another vaccine provider. Nevertheless, the APH Child Care and Schools COVID-19 response team stands ready to help with any specific questions programs may have about vaccinations for child care staff and to resolve any issues with second doses for staff for whom we made first dose appointments. Feel free to contact us at ChildCareInfo@austintexas.gov with questions.
Expanded Online Vaccine Scheduling
APH is expanding online scheduling of vaccine appointments. You must have an account to schedule an appointment online. You can register for an account and schedule online at https://covid19.austintexas.gov. Anyone 18 years or older may log in today to join the scheduling queue. This week's queue will end Fri., Apr. 23 at 7 a.m.
Going forward, the appointment scheduling system will be open from 7 p.m. on Fridays to 7 a.m. the following Friday and will reopen again at 7 p.m. that evening for appointments for the following week. The 12-hour closure of the scheduling system on Fridays will allow APH to finalize the appointment schedule and update appointment times for the following week.
Click here for tips for online scheduling.
Telephone Scheduling
If you cannot access the online scheduling system, please call 3-1-1 or 512-974-2000. Call takers can assist with technology issues, account creation, and pre-registration. For additional assistance, they will take your name and number and provide it to APH Equity Hotline for a call back.
Walk-Up (No Appointment) Option
APH is also piloting a walk-up vaccination option this Thursday, April 22, and Friday, April 23, from 12-7:30 p.m., or until vaccines run out, at the Delco Activity Center (4601 Pecan Brook Dr, Austin, TX 78724). Residents 18 years of age and older can arrive without an appointment. If all vaccine is administered before 7:30 p.m., staff and volunteers will help residents who arrive on-site schedule an appointment to return for their vaccine.
Residents are not required to pre-register in the APH system because staff and volunteers will gather information and complete the registration on-site prior to their first dose vaccination. If you'd like, you can save time by creating an account and pre-registering for the vaccine before going to the clinic at https://covid19.austintexas.gov. Click here for information on what to expect on-site for walk-up clinics.
Second Doses with APH
As a reminder, a minimum of 28 days is required for Moderna between first and second doses. Second dose appointments are automatically being scheduled by APH closer to the 28 day mark by email, text or phone call – if someone has not received an appointment they should double check their spam/junk folders. However, after 28 days, individuals can call 3-1-1 or 512-974-2000 to find the next available clinic to receive their second dose without an appointment. They must provide their CDC vaccination card that shows they have received their first dose of Moderna.
Update from Travis County about vaccines at COTA
The Pfizer vaccine is being offered at the Circuit of the Americas (COTA). This vaccine is approved for anyone age 16 and over. Parental consent is required for anyone aged 16 or 17 to get the Pfizer Covid-19 vaccination. A parent has to be present and in the vehicle with any 16 or 17 year old coming to COTA for a vaccine. Appointments are available for this coming Saturday and Sunday at COTA, 9201 Circuit of the Americas Blvd, Austin, TX 78617, at this link: https://covid19.communitycaretx.org/VaccSched/covid19#/triage.
Thank you for your help in spreading the word to staff and families about getting vaccinated against COVID-19!
Best, Austin-Travis County COVID-19 Child Care Task Force