Who is The Global Center for Nonprofit Excellence®?
The Global Center of Nonprofit Excellence is an orchestrated network that exists for the expressed purpose of bringing together nonprofits, funders and vetted industry experts where accepted Best Practices are encouraged, assessed and nonprofit operating performance improved.
The Global Center for Nonprofit Excellence Offers OpX360 Smart Online Tools to Help You Learn About and Improve Your Nonprofit's Operational Effectiveness Fast
Nonprofits want more funding. Funders want more confidence. More confidence comes from demonstrated operational competence. Funders
with more confidence give nonprofits more. Operational competence can be learned and improved with OpX360®.
---
Nonprofit Crisis Response Plan Download

When a disaster or crisis strikes, quickly securing the public's attention and support is critical
However, attaining first mover status requires intentional pre-planning to ensure you can successfully execute in the immediate aftermath of a crisis. Ultimately, disaster response strategies will:
Strengthen the organizational brand;
Allow you to deliver on your mission, especially to those most in need during a critical period; • Create advantage over your competition;
Capture unexpected market share;
Provide unique opportunities for donor impact; and • Create a platform for ongoing engagement with key supporters
There are six primary steps for developing an organizational disaster response plan:
Assess internal capacities and expectations;
Design a strategy and corresponding executional plan;
Prepare public-facing messages and designate those who will speak for the organization;
Train key players, communicators, and those who may interact with the public and media;
Identify and inform key partners (i.e., media outlets, digital and print vendors, call centers);
and Evaluate performance and optimize.
Sample of Download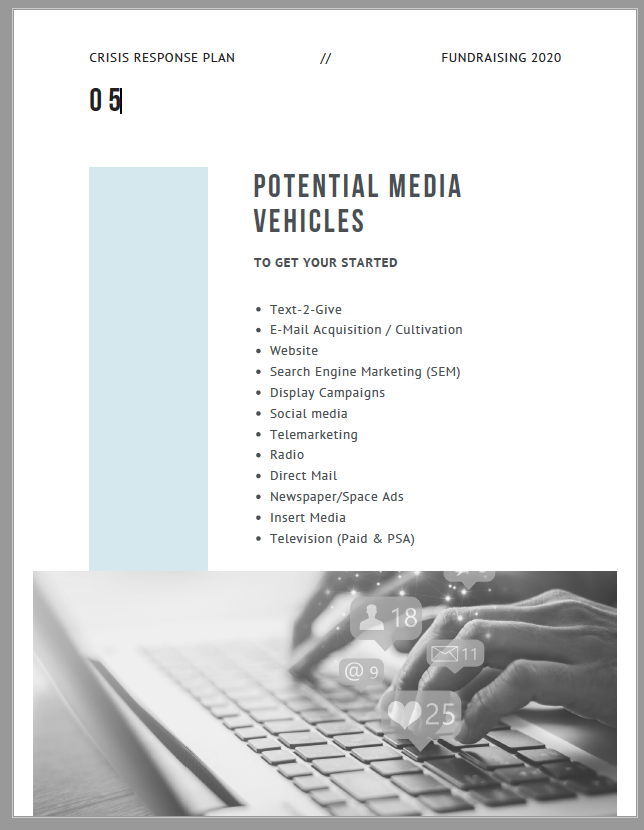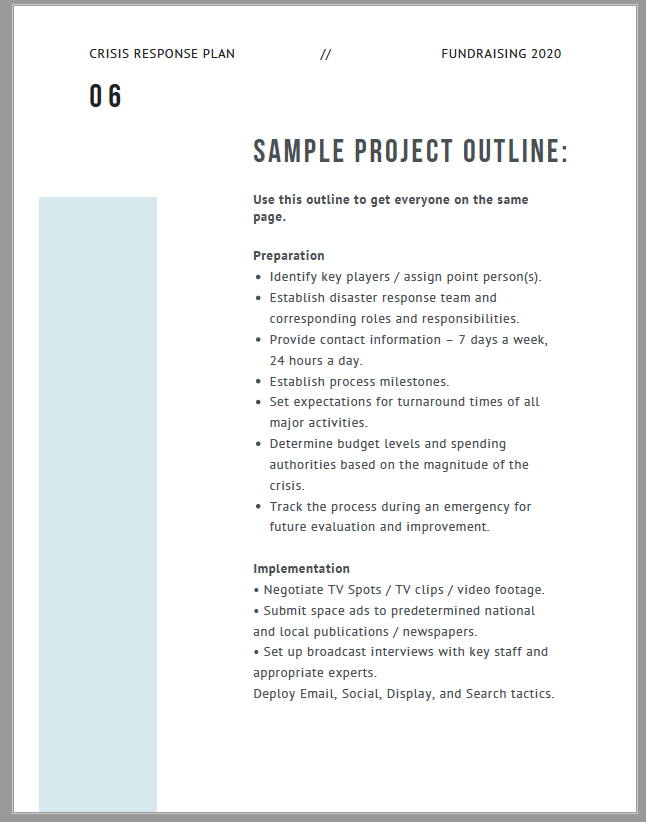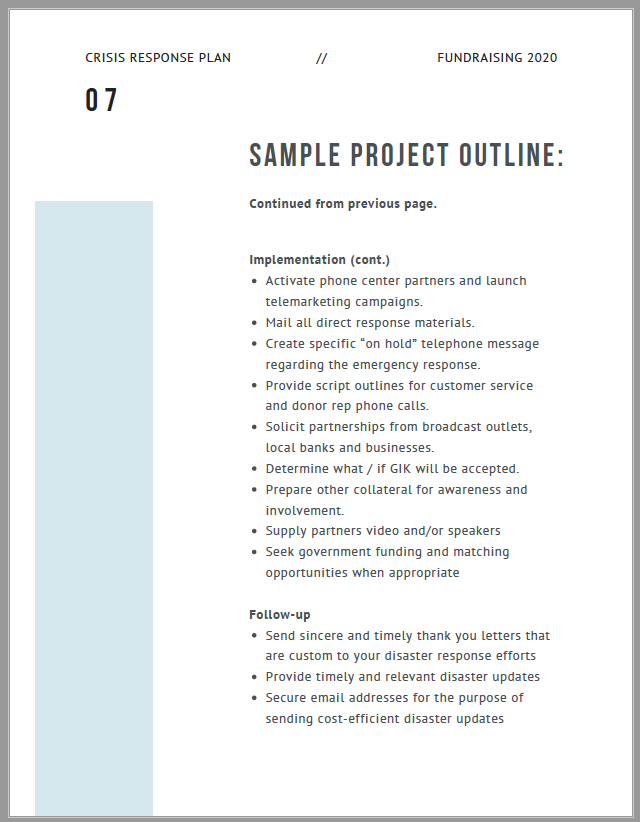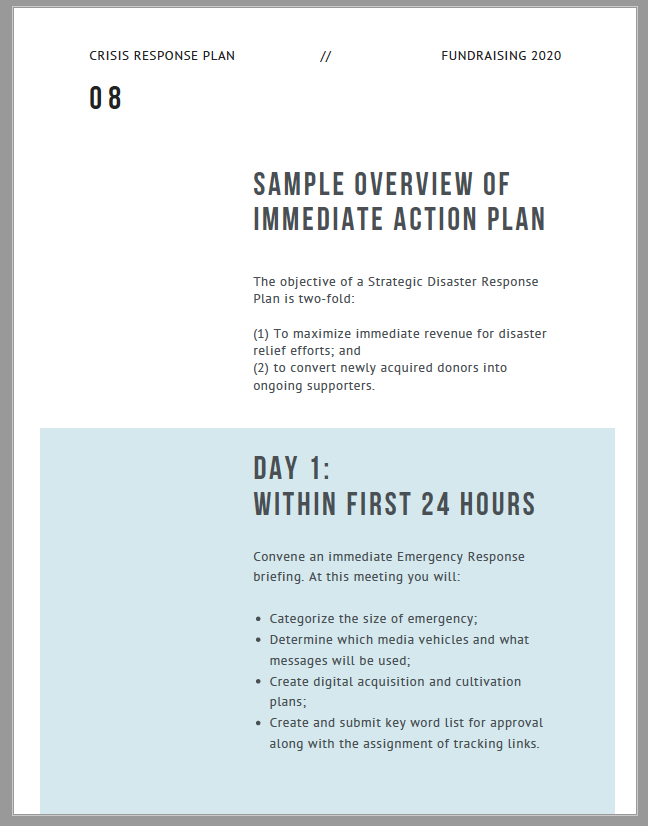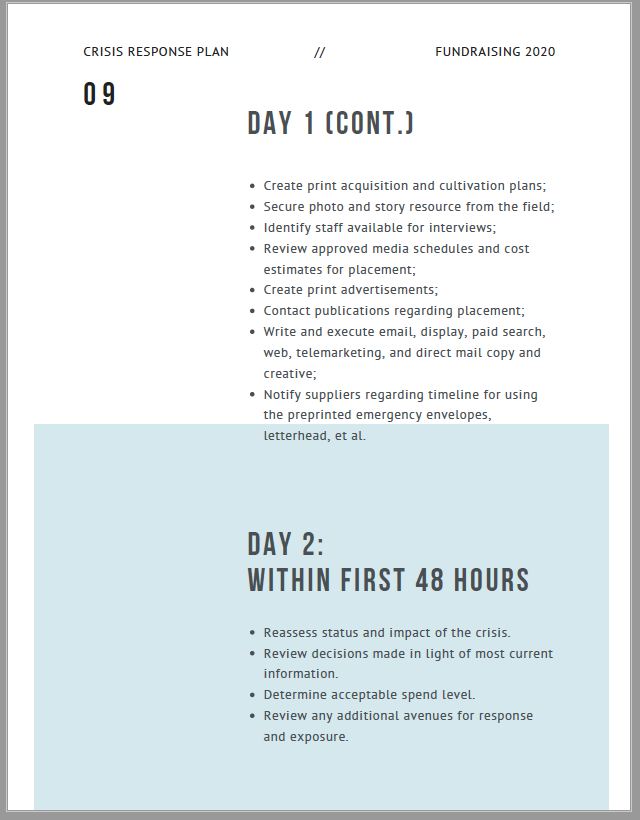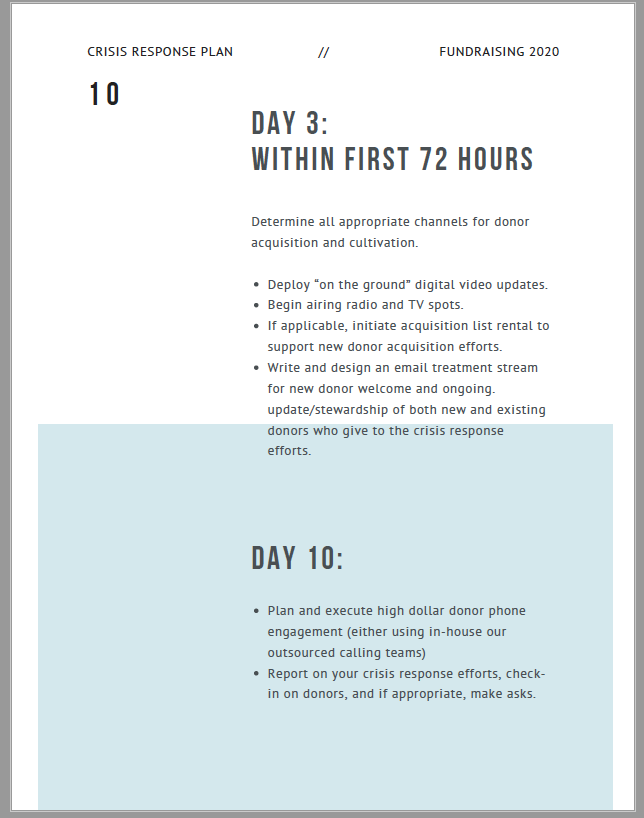 Download the Full Crisis Response Fundraising Plan 2020.pdf
---
About the Authors
BOB LIPPS, ATTORNEY AND CPA
Bob Lipps is Co-Founder and Principal Advisor at The Global Center for Nonprofit Excellence® and Co-Inventor of OpX360®. Bob serves on the boards of CCM and SIM. His previous roles include Managing Partner of Ten Talents Partners, Executive Director and Practice Leader of Lockton Insurance Brokers, Chairman of Stewardship Insurance Ltd., and General Counsel, CFO and Board Member for Wycliffe Bible Translators. Bob holds degrees from Arizona State University and Texas A&M University School of Law and is a member of the TX and FL Bars and the TX State Board of Public Accountancy.
MARC STEIN, MBA
Marc Stein is Co-Founder and Principal Advisor at The Global Center for Nonprofit Excellence® and Co-Inventor of OpX360®. His previous roles include Vice President and Executive Team Member of Joni and Friends International Disability Ministry, President of Gospel Light Worldwide, and National Director of the International Bible League and various other roles within the professional services arena. Marc holds degrees from California Coast University and is the author of Referral Rainmaking, How to Build Your Business Through Professional and Client Referrals. He currently serves on two boards.
About THE GLOBAL CENTER FOR NONPROFIT EXCELLENCE
The Global Center for Nonprofit Excellence® is an orchestrated network helping nonprofits, funders and industry experts work better together for greater impact through increased operational effectiveness and strategic introductions where:
We Make Nonprofits Better.
Nonprofits can know their operational levels and the three most important things to do next; Funders can gain greater confidence in nonprofits and the confidence to give more;
and Industry Experts can have a dynamic, focused connection to better serve both nonprofits and funders.
By combining nonprofit best practices and the simple use of artificial intelligence, you can now measure 60 operational practices in all six areas of nonprofit operations and know the three most important things that you can do to improve your operational competency fast in each of those areas.
Any of the OpX360® assessments can be taken individually or together, depending on the needs of your organization.
HOW I T 'S BUIL T
Statements are grouped into sets of related Best Practice statements called Key Elements and each individual statement is categorized into one of three Competency Levels.
Those levels of competency are:
Level 1: Core operational practices necessary to perform effectively.
Level 2: Sophisticated practices that enhance overall performance.
Level 3: Leading edge practices that enable an organization to deliver the highest level of operational performance.