Our purpose:
Provide a learning community for early childhood stakeholders to share and discuss latest early childhood research
Provide an opportunity for stakeholders to learn about, share and discuss community conditions
Enable stakeholders to learn about progresses and challenges of coalition efforts and to provide feedback to in order to move the collective agenda forward.
Facilitate networking with fellow stakeholders Create a space for stakeholders to generate opportunities for action
---
Meeting Materials & Recap:
Download and view the meeting PowerPoint below.
January 2021 SX6 Coaltion Meeting - powerpoint.pptxNotes:
United Way for Greater Austin staff presented the 2021 Prioritized Strategies as proposed by the Coalition Workgroups and Leadership Team for each of the 4 pillars of the strategic plan.

Staff also shared information about how the Strategic Planning and Implementation Process is based on a Results Based Accountability Framework that includes the following cycle: Assess – Plan – Implement – Evaluate.
United Way Director of Data and Evaluation Dr. Alison Bentley is gathering the 2020 Coalition Data to help evaluate progress toward population level goals.
Workgroups are drafting ACTION STEPS to implement during 2021 to move the needle on prioritized strategies.
Coalition stakeholders are encouraged to share feedback on the strategies – what's missing?

A focus in 2021 is ensuring family/parent voice is authentically embedded and prioritized in every level of the strategic planning process. Breakout groups focused on sharing how Coalition member organizations incorporate family voice in their efforts.

A follow up survey will be sent for more robust sharing so that the Leadership Team can identify bright spots in the community to highlight and use to inform the broader Coalition work.

United Ways of Texas shared an update on the 87th Legislative Session.
Austin Public Health shared updates and requests for our Coalition - encourage families and staff to be patient in waiting for vaccines, and to continue to be diligent with COVID-19 mitigation efforts even though everyone is experiencing COVID-19 fatigue.
Coalition Announcements for Resources and Events
January 2021 SX6 Coalition Meeting Announcements - 2021.01.28.pdf
We are working to shape our meetings with your feedback. You can see the results from the January 2021 poll here: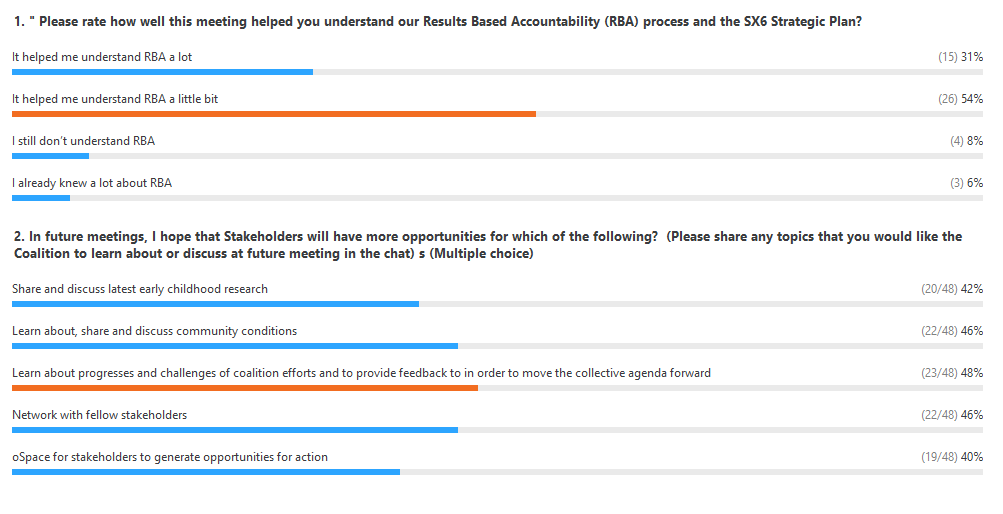 Legislative Advocacy Shared at Meeting
United Way of Texas Early Childhood & 87th Session.pdf
The next SX6 Coalition Meeting is April 22, 2021 at 3 pm. You can register here: https://www.missionbox.com/event/880/success-by-6-april-2021-coalition-meeting
If you are new to SX6, join us for an SX6 Orientation Lunch & Learn: