Español abajo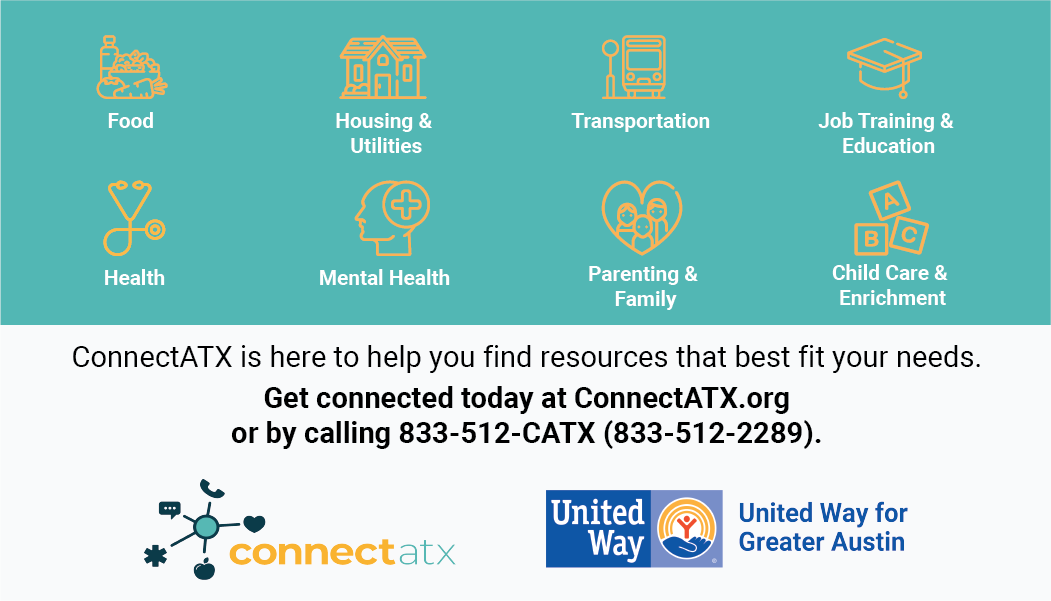 ConnectATX is a community resource tool that connects families to social services such as food, housing, job training, child and family services, and more. ConnectATX is available via the web at ConnectATX.org and also offers services through a phone (512.833.2289) and chat line. Phone and chat are available Monday through Friday from 8:00 am - 4:00 pm.
As a complement to our 2-1-1 program, ConnectATX utilizes a social determinant of health survey to understand the needs of each client and refer them to services based on their answers to the survey. ConnectATX also uses a closed-loop referral system that allows families to be directly referred to an organization which can then follow up directly with the family.
ConnectATX also allows users to create an account, save favorite programs, and track families who they may be helping.
---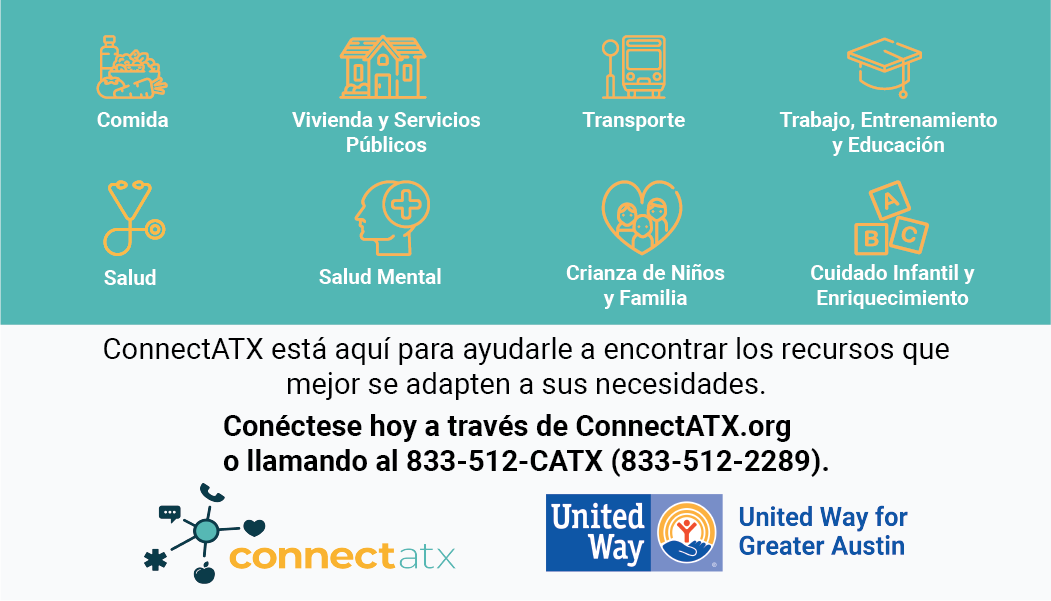 ConnectATX es una herramienta de recursos comunitaros que conecta a las familias con servicios sociales como comida, vivienda, capacitación laboral, servicios para niños y familias, y más. ConnectATX está disponible a través de la web en ConnectATX.org y también ofrece servicios a través de un número de teléfono (512.833.2289) y una línea de chat. El teléfono y el chat están disponibles de lunes a viernes de 8:00 am a 4:00 pm.
Como complemento a nuestro programa 2-1-1, ConnectATX utiliza una encuesta sobre determinantes sociales de la salud para comprender las necesidades de cada cliente y referir a los servicios según sus respuestas a la encuesta. ConnectATX también usa un sistema de referencia de circuito cerrado que permite que las familias sean referidas directamente a una organización que luego puede darle seguimiento directamente con la familia.
ConnectATX también permite a los usuarios crear una cuenta, guardar programas preferidos y realizar un seguimiento de las familias a las que pueden estar ayudando.