Austin Public Health Hosting Vaccine Town Halls
Dear child care partners, We know that many in the community have questions about the coronavirus vaccine. Austin Public Health will be hosting two community town hall meetings this week – one in English and one in Spanish – to provide information about the COVID-19 vaccine. The town hall meetings will include an expert panel discussion about vaccine safety and effectiveness.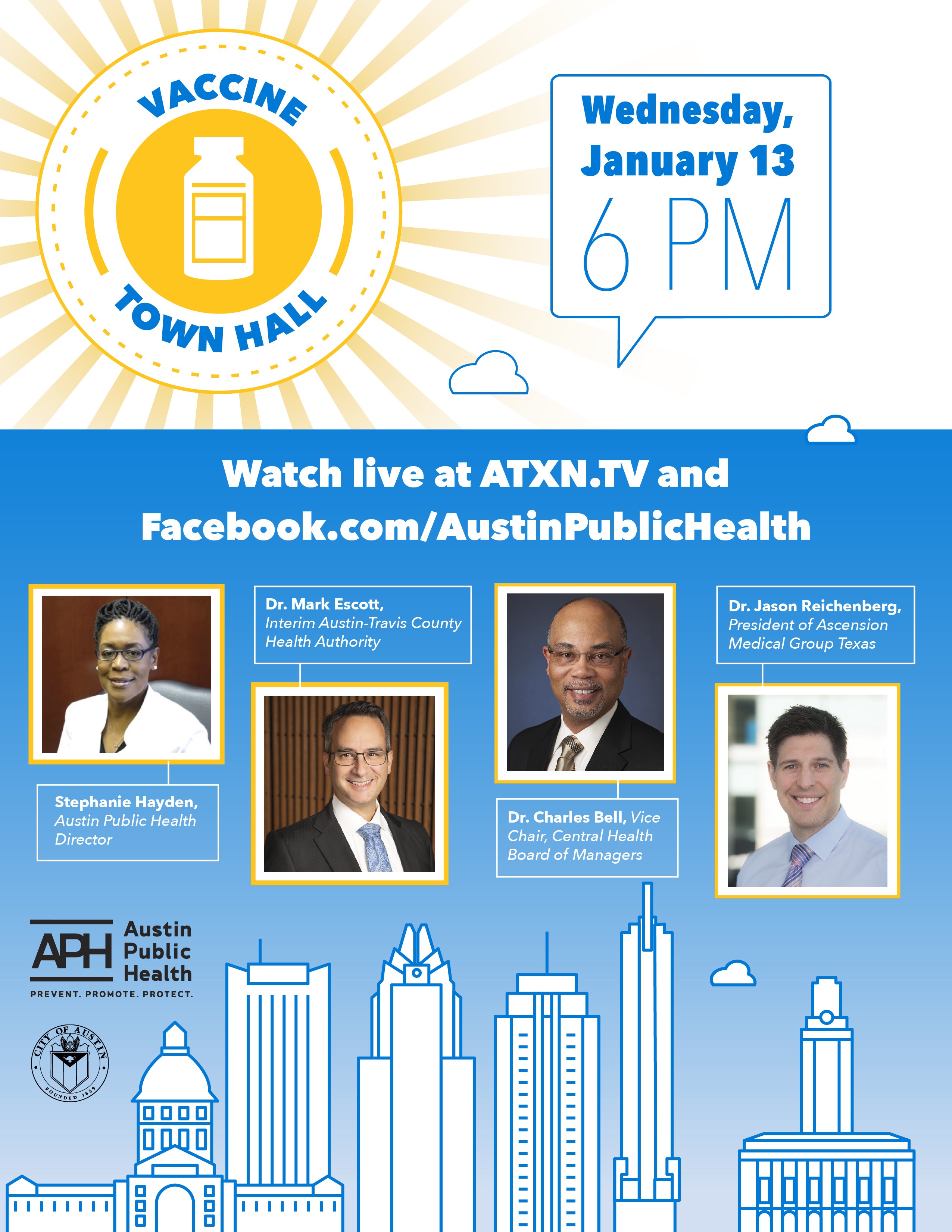 Vaccine Town Hall - English
What: Join local public health officials for a Vaccine Town Hall to discuss COVID-19 vaccine safety, efficacy, and distribution. Some vaccine questions will be answered live as time permits.
When: Wednesday, January 13th at 6 p.m.
Where: Facebook Live, ATXN
Panelists:
Stephanie Hayden, Austin Public Health Director
Dr. Mark Escott, Interim Austin-Travis County Health Authority
Dr. Charles Bell, Vice Chair, Central Health Board of Managers
Dr. Jason Reichenberg, President of Ascension Medical Group Texas
Additional details can be found here.
---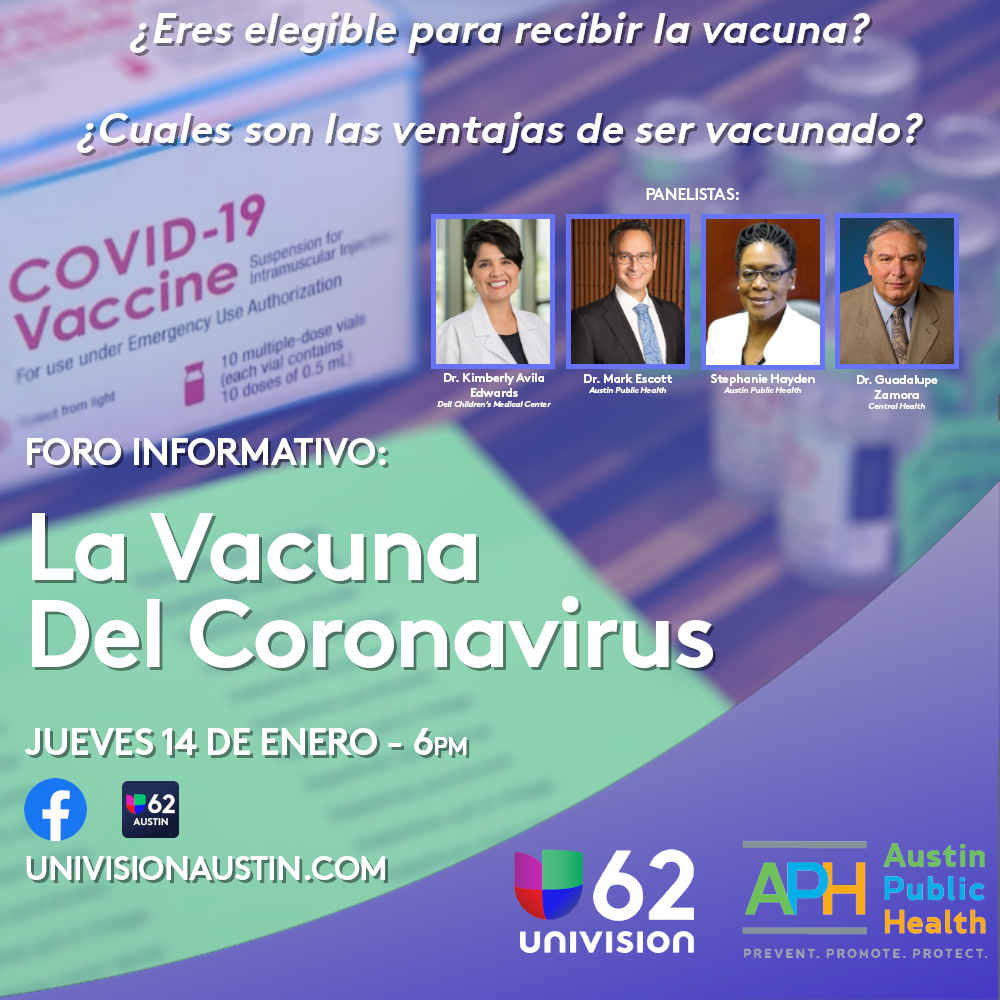 Foro Informativo en Español sobre La Vacuna del Coronavirus
¿Tienes preguntas sobre la vacuna del Coronavirus? No te pierdes este foro informativo.
Que: Únase a los funcionarios de salud pública locales para un foro informativo sobre la seguridad, efectividad y distribución de la vacuna del coronavirus obtenga respuestas a sus preguntas en vivo.
Cuando: El jueves, 14 de enero, a las 6 de la tarde
Donde: Facebook Live, Univision 62 app, Univision.com
Panelistas:
Stephanie Hayden, Austin Public Health Director
Dr. Mark Escott, Interim Austin-Travis County Health Authority
Dr. Guadalupe Zamora, Central Health Board of Managers
Dr. Kimberly Avila Edwards, Dell Children's Director of Advocacy and External Affairs
Para detalles adicionales haga clíc aquí.
As you know, our community is in Stage 5 right now, in which there is widespread, uncontrolled COVID-19 transmission. While many of us are anxiously awaiting our opportunity to get the vaccine, Interim Austin-Travis County Health Authority Dr. Mark Escott has noted it will take time for a significant portion of our population to get vaccinated, so we can't expect that the vaccine is the key to ending the current surge. As more and more people in our community are vaccinated, the vaccine, in combination with continued masking and social distancing, will help us prevent future surges.
The key to ending this current surge and leaving Stage 5 is to more strictly abide by the mitigation measures we have heard about throughout the pandemic:
Stay home whenever possible and only go out for essential needs.
Do not attend gatherings with people outside your household. Indoor gatherings pose an even greater risk than indoor gatherings.
Wear a mask whenever you leave home.
Stay at least 6 feet from people outside your household.
Wash your hands often.
Please help us by doing the following:
Join us for the Vaccine Town Halls this week, if you are able, to learn more.
Spread the word today about these town halls to your staff, family and friends, and families in your program.
Share the messages above with your community about the urgency of continued masking, social distancing, frequent hand washing, and avoiding gatherings.
Thank you for your help in fighting coronavirus!
Stay healthy and safe,
Austin Public Health