English Below
Programas Virtuales del Consulado General de México en Austin vía Zoom,
Presentados por la
Biblioteca Pública de Austin
Diciembre 2020
Regístrese en http://bitly.ws/ad3o o comuníquese con nosotros a través del correo electrónico comunidadesatn@sre.gob.mx. Si lo desea, también puede llamarnos a: 737-231-1671 o 512-382-2833.
Uno o dos días despues de inscribirse a los programas en los que desee participar, recibirá un enlace de Zoom. Para unirse a los programas desde su dispositivo (computador, tableta o teléfono) haga clic el enlace correspondiente a la hora del programa. También puede visitar www.zoom.com y hacer clic en el botón JOIN A MEETING. En cuanto se le pida, introduzca el Meeting ID del programa al que quiera ingresar (y Passcode o contraseña, si es ese programa cuenta con una).
Para verificar el horario, visite a: http://library.austintexas.gov/events/calendar
---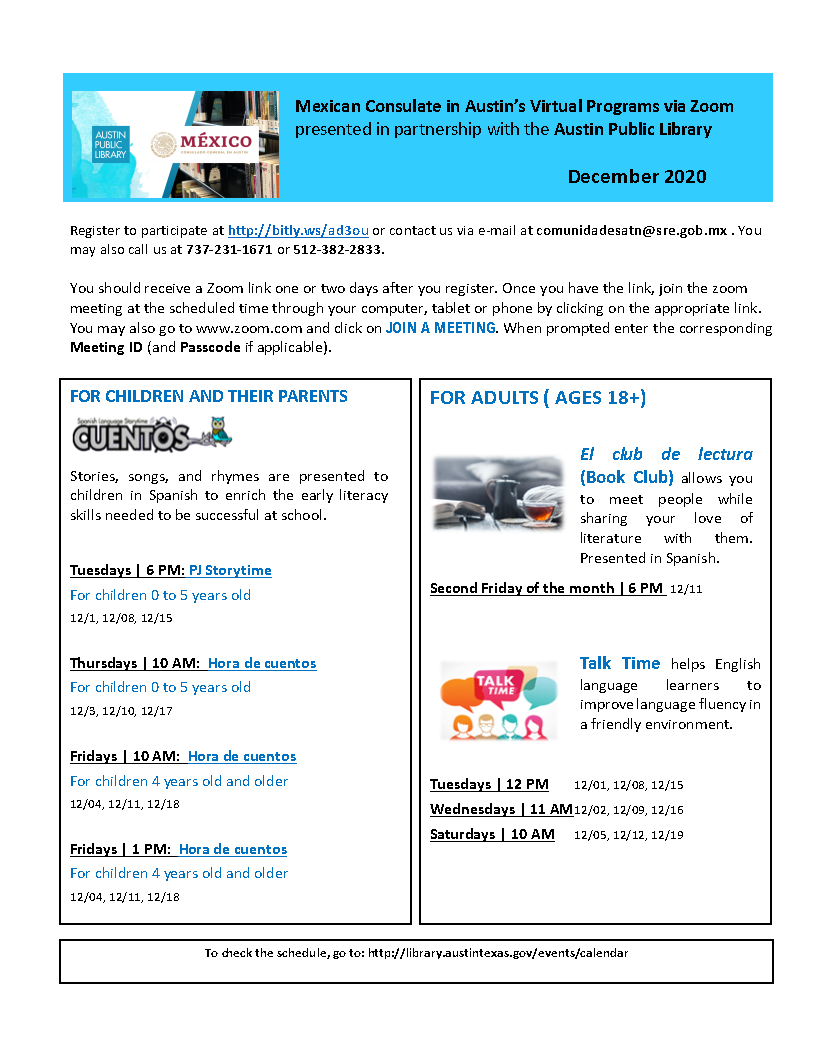 Mexican Consulate in Austin's Virtual Programs via Zoom
presented in partnership with the
Austin Public Library
December 2020
Register to participate at http://bitly.ws/ad3ou or contact us via e-mail at comunidadesatn@sre.gob.mx . You may also call us at 737-231-1671 or 512-382-2833.
You should receive a Zoom link one or two days after you register. Once you have the link, join the zoom meeting at the scheduled time through your computer, tablet or phone by clicking on the appropriate link. You may also go to www.zoom.com and click on JOIN A MEETING. When prompted enter the corresponding Meeting ID (and Passcode if applicable).

To check the schedule, go to: http://library.austintexas.gov/events/calendar