Working Apart. Still United By Mission.
Engagement Communities (EC) private, collaboration and communication virtual platforms ensures you can easily, quickly and affordably work from any location – remotely or from a central locale.
Increase productivity and connection with your staff, board, donors, partners, service recipients, volunteers and more in less than 24 hours.
What's So Special About This Offer?
At a savings of more than $2,500, this special offer of EC: Essentials:
Is Uniquely Affordable
Mobile-Enabled
Private & Group Chat
Allows for Unlimited User Seats
Provides 24/7 Customer Support
Is 100% Password Secure
Allows Interface with Any Video Conferencing or Third-Party Software
Offers a Complete and Secure Document Management System
Offers Key Elements of the Best Learning Management Systems
Integrates with any Social Media Platform
Provides Searchable Resource and Other Lists
How it Works
At purchase, immediately begin on-boarding with hands-on guidance and personal assistance
Select from templated page designs for easy on-boarding
Access your own 24/7 Help Center with live chat and instructional videos
What's Included in This Special Offer?
All cutting-edge EC communication, collaboration and connection tools are available to EC Essentials users EC Essentials is specially designed to promote and support the work and mission of smaller nonprofits and charities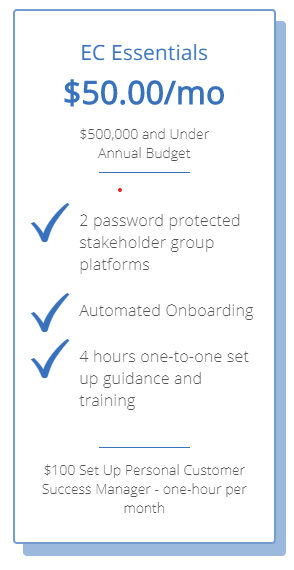 Want to learn more? Contact korear@missionbox.com