Who's on the call: Patsy, Leroy, Danni, Sheila, Joan, Pat, Maria,
Celebrations - enrollment # and funding leveraged (466 students currently).
Administrative Reminders
Nuts & Bolts - Professional Development
We recognize that we have offered a LOT of PD opportunities for you. We have had some generous funders who value it and also hope that we can offer some new opportunities that are typically out of budget/out of reach as well as to potentially offset some costs so you can invest precious dollars elsewhere such as compensation, etc.
In addition - it's important to know that:
AISD, TEA and our PKP Advisory Board (made up of community members and AISD leaders) are tracking STUDENT OUTCOMES.
These outcomes will be: CLI data during the current year (Beginning, Middle and End of year) and the Kindergarten Readiness Data when children enter AISD.
Kinder Readiness is measured by the TX KEA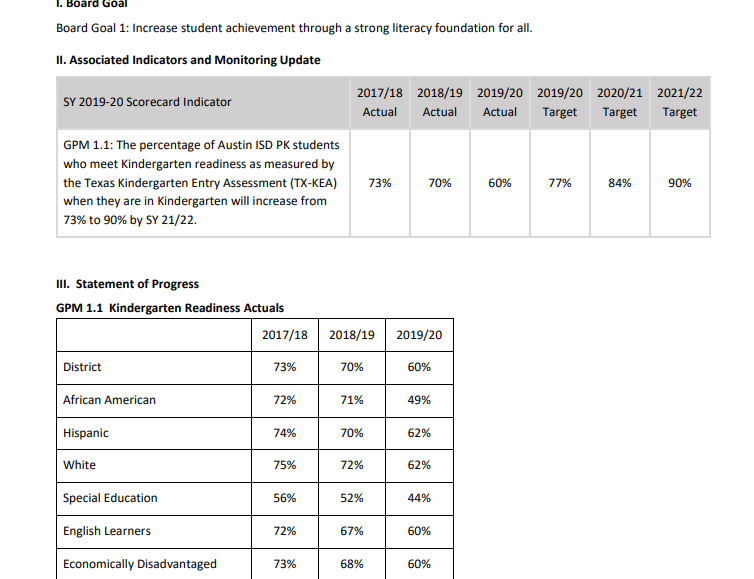 Link to TX KEA information https://cliengage.org/public/tools/assessment/tx-kea/
See attached document - last year the 60% of AISD PreK students were considered K-Ready on this tool. The year before was 70%. Their goal is 77%.
This is why Jeanine is using CLASS data to coach teachers, and we are collecting the CLI data to monitor which children are on track or behind (and need some additional support).
We hope that professional development will support not only your PKP teacher but also other teachers (infant, toddler, and 2's) to help support great quality classrooms across the center to support student development.
2/17 day for PKP teachers at United Way - Jeanine
PreK4 SA trip 3/25 - Join us for a day together to share, learn and dream
Registration
Excellence Fund - Approx $500 per PKP center for training/professional development of your choice. Please think about your staff strengths and needs – and consider how you will help them incorporate learning into their practice! o Copy & Paste this: https://docs.google.com/forms/d/1fRSq8DulZw0_-oQm-m-VAfpf5O6vto9VhqB3cxM5VnY/edit?usp=sharing
Taking Charge of Change for Directors
Please reply to Cathy if you are interested in either of the programs below:
Taking Charge of Change(TM) Early Childhood Leadership Professional Development Course | 96 Hours over 6 months or a year
Equip and empower yourself to lead your organization. This comprehensive evidence-based leadership course focuses on child care center directors and their role as "change agents." It is an ideal course for administrators who want to be sure they have a solid understanding of all aspects of their profession.
The intensive learning and leadership development program draws upon the McCormick Center for Early Childhood Leadership's curriculum and Together4Children's extensive expertise and knowledge of early childhood leadership. Your experience in this course will be enhanced by the collective wisdom of your fellow directors, which will create a powerful learning environment for you to grow as a leader. You will gain confidence to think about yourself as an individual leader, an organizational leader and a systems leader, prepared to make real and sustained change. Directors will have opportunities to reflect and diagnose their individual and organizational challenges and select appropriate strategies for implementing change.
What You Need To Lead Early Childhood Programs Training | 12 hours
Enhance your administrator' skills and learn strategies for effective leadership. The training, based on Taking Charge of Change™ Early Childhood Leadership and Management course, helps you explore the fundamental principles and practices of exemplary leadership. Participants will grow in their understanding of the unique characteristics of successful workplaces and gain practical strategies for implementing strategies in their programs.
Transition, Enrollment and looking to 2020-2021 We are going to talk with you about 3 different groups of kids and processes:
Transitions - These are students who are "graduating" on to Kindergarten!

Addie is scheduling meetings to host at your center where she will come with an AISD staff member and talk with parents/families about what to expect in Kindergarten, and now they can register for school already for 2020-2021 online.
Addie will be collecting a list of what schools families anticipate moving their children too – if there are enough families, the AISD campus may hold a welcome event for PKP families. o Meetings during Feb/March

Registration for returning students - This is for students currently co-enrolled (funded by AISD) at your center in PKP and will be STAYING for another year.

Most of these started the year as 3 year olds.
Since they are ALREADY enrolled as AISD students, the parents/families can complete online registration to STAY at your center, and they do NOT need to re-verify all the paperwork for income/enrollment, etc.
Families can complete this ONLINE REGISTRATION PROCESS starting now through April
More information to come with specific instructions.

NEW ENROLLMENT – This is for students who are NEW to preK partnerships. They are students who will be 3 years old BY 9/1/2020 and will be moving up into PKP.

We can being the ENROLLMENT process starting April 1.
We will be happy to schedule a window of time to be at your center to work with parents/families on enrollment and paperwork.
There will be some part that is online and some that's paperwork we need to collect including documents families will need to bring.
We will work with you to have incentives for families who submit all required paperwork/documentation before a deadline we set.
Our goal is to streamline and simplify this within what AISD will allow us to do.
I will work with you to schedule.
We will be happy to help you with information to "market" this.
More information to come with specific instructions.
Big Picture Updates – Cathy
AISD will apply for a waiver from TEA to continue to have half-day partnerships for PreK4 next year. I am happy to dive into the details on this. We anticipate trying to negotiate for PreK4 full day funding in 2021-2022.
PreK Partnerships are a priority for Texas Workforce Commission and Texas Education Agency – We are on the leading edge and really want to use this as a mechanism to stabilize child care business/programs as PreK expands across the state.
I'm excited to share that Madison Mattisse will be our new PreK Partnerships Director in May/June – she's very experienced and excited. Cathy McHorse will be interim until then.
United Way is still very committed to expanding shared services supports such as a pool of substitute teachers, implementing SmartCare child care management software to help with attendance, and other supports, but we are currently focused on making sure that our foundational operations (enrollment, attendance, invoicing, communications) are working well. We believe that we should only build on a strong foundation!
Other Announcements & Celebrations:
Sheila at Open Door East is graduating from Peleton U on 2/27 with her Bachelor's Degree in Business Management!!!
Patsy at Bright Beginnings has hired another PreK teacher!
Pat & Maria at Sweet Briar hired a toddler teacher!
Danni at Open Door M Station is looking for a toddler teacher.
A reminder that our goal is to provide infrastructure to support you - we are learning alongside you as we go. Please do share your concerns, questions, and celebrations!
---