Important Dates
Attendance projections are due February 14th and actual attendance is due
every Friday
Director Connect Conference Call February 11th @ 12:00 pm
Teacher Training on February 17th at United Way for Greater Austin
Field Trip PK4 San Antonio Visit on March 25th
Coming Soon
Online Enrollment
Professional Development Opportunities - Apply to be reimbursed for up to $100 in professional development expenses.
Field Trip Opportunity
About the Play: A plucky young red ant goes on a quest but finds herself in blue ant territory! A story of learning, communicating and building,
Hi, Teachers! Your pre-k students will adore this play. Attending live theatre together fosters bonding and provides your group with common vocabulary gleaned from a memorable story. With curricular fundamentals woven into the dialogue, plus a study guide with critical thinking questions and book suggestions included, this event is sure to please teachers as much as it tickles the younger set.
Details: Group ticket pricing details can be found on the attached season document. Note: Tickets went on sale when the season was announced in August. We still have some availability for all Thursday shows. If you are interested please contact:
Joy Anderson
Pollyanna Theatre Company
www.pollytheatre.org
512-522-5341
Resources
Since 1996, United Way for Greater Austin has helped residents navigate the complex system of health and human services in Central Texas by maintaining our Navigation Center. The service provides simple, one-call access to our call specialists, who can connect you to more than 30,000 nonprofit and government resources in the 10 counties we serve. Just dial 2-1-1.
2-1-1 provides information about…
Housing
Food
Health Care
Child Care
Education
Employment
Counseling
Government Resources
Disaster Information
Teaching Tips
Two's Company, Three's a Crowd: Peer Interactions in a Preschool Social Triangle (Voices)
Any given behavior is meant to serve a child's goals of creating knowledge or connection. In this view, when children hoard certain toys, dominate certain spaces at school, invent private language or rituals, speak harshly to each other, or exclude each other, these interactions serve as little workshops in which they gradually forge satisfying processes of play and companionship. Read more:

Process Art for Valentine's Day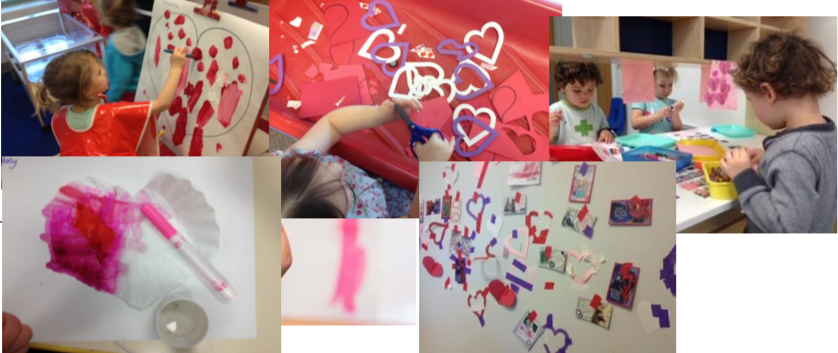 Draw ½ hearts on folded construction paper and encourage students to cut and decorate
Making cards for friends and families by providing a wide range of materials
Making paper chains (great for patterns and collaborative work)
Conscious Discipline: Breathing