Quick Links
Introduction
Available as part of Articles, User Responses capture custom answers to a custom question posed by the Editor.
User Response Components
Question
The question you wish to display under the article, in 200 characters or less. You may ask things like:
Was this article helpful?
Do you approve of these board minutes?
Answers
The custom options readers will have to choose from to answer the posed question. There is no limit to how many options editors may provide.
Show Answers As
Answers may be displayed as:
Buttons

or as single-select Checkboxes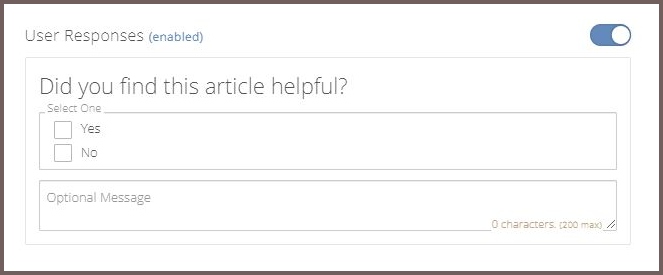 Allow Custom Message
Editors can decide if they want readers to be able to submit a custom message as part of their User Response. This option can be adjusted to display once a user has selected an answer, only if the user selects "other," or always. By selecting "Never" in this dropdown, custom messages are disabled.
Show Responses Tab For
Editors can also decide who is able to see submitted responses. Options include:
Only users with edit access
Only users who have responded (or have edit access)
Everyone
Anonymous Responses
Selecting "Yes" to Anonymous responses will keep submitted responses anonymous. By selecting "No," user information will be connected to submissions.
Enabling User Responses
Within an article, there are two ways to enable User Responses:
In Edit Mode, you can click the On/Off toggle next to the User Responses feature, under Author Bio

When hovering over the Article tab, a drop-down will appear. Click Settings to open the "Adjust Article Settings" pop up. In the "Visible Components" window, check User Responses. Click save to enable the feature.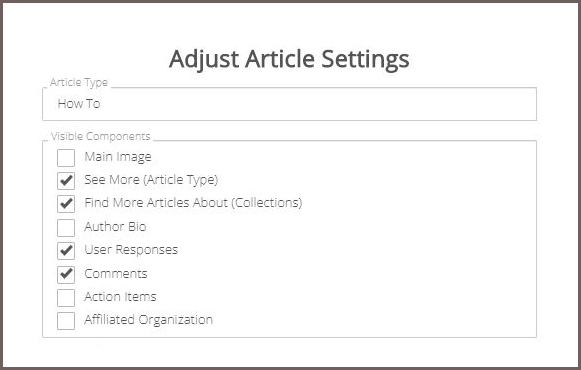 Once enabled, hover over the User Response section and click into the text box underneath. The "Adjust User Response Settings" pop up will appear. From here, you can adjust your User Response to your preference.
Reviewing Submitted User Responses
When viewing an article, Editors have the ability to view all submitted responses. To do this, click on the Responses tab to the right of the Article tab. User information, if applicable, is categorized by response. If Anonymous Responses are enabled, no user information will be available, though anonymous profiles are still broken down by response.