Getting Started Planning Groups for your Community
With Engagement Communities, you will have the ability to create Groups within your overall Community that will support each of the population of stakeholders that your organization works with on a regular, or semi-regular basis. (i.e. major donors, board of directors, staff, service recipients, advisory groups, funder groups, program collaborations, general public). Groups are a central hub that will contain all of the documents, messages, invites, videos, meeting notes, acknowledgements, updates and essential information that you need to share with those stakeholders. Once you have these Groups set up in your community, you can invite individuals to join one or more Group/s and you can also determine the level of permission each member should have within the group (this applies to creating content, editing content and managing group members). You can choose to make groups "Private" with content only viewable to members , "Public" so that anyone can access the group information, or to make a group "Collaborative" which allows users to make some content private and other content available at the community level.
GROUP LAYOUT PAGE EXAMPLE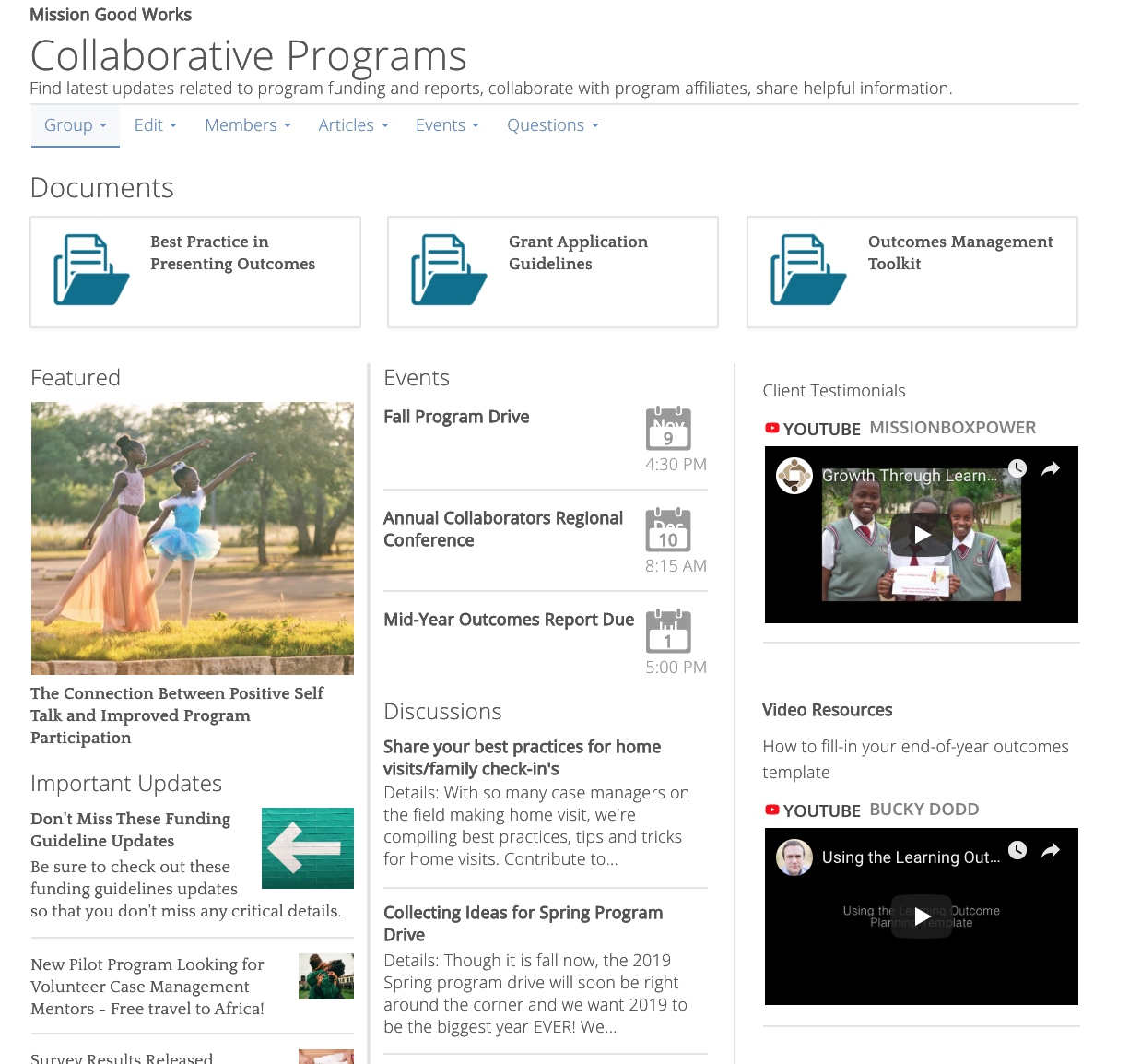 Planning your groups
The first step to setting up your community and groups, is to identify all of the sets of stakeholders that your organization currently works with (i.e. funded agencies, program collaborations, Board of Directors, internal staff, general public). Once you've identified those stakeholders groups, you will want to answer the following questions as they pertain to each group.
Once you have completed these questions for each Group, your MissionBox Customer Success team will review with you how to plan the layout of the group, the permission structure for the members, and provide you with recommendations for keeping the Group updates.
Group Planning Questions
What is the Group name?
What is the Group's purpose
Who are the Group members?
List all of the different type of information (notices, ongoing communications, mandatory communications, reports, event invitations, reminders, surveys, forum discussions, essential resource links) that you currently share with the members of this group on a regular or emergency basis, or want them to have access to.
How often will you be updating your group content ( i.e., will you be posting new information everyday, weekly, etc.)?
Do you have an individual that will be updating the content for this group?
List the information that you would like to make available when to group members when the group launches.