Energize Your Nonprofit's
Productivity

,

Engagement

,

Capacity

and

Reach

with ALL Your Stakeholders. Save time and money by replacing your communication and collaboration tools with a single, affordable, customizable, secure digital hub: Engagement Communities
Want to have a quick chat about this amazing software?
Attract, inspire, empower and retain
staff,
association members,
board members,
major donors,
volunteers,
collaborative partners,
clients,
and more.
Video Conferencing Access
Secure Document Management
EC Features
Explore our features and see for yourself why nonprofits love to use our remote hub! Hover over collaboration, communication capacity & reach to learn more about our features!
Collaboration
Group Chat
Blogs
Video Posting
Content Publishing
Doc Sign-off
Document/File Management and Storage
Document Sign off
Training Tools
Interface with any Third-Party Software and Video Conference Tools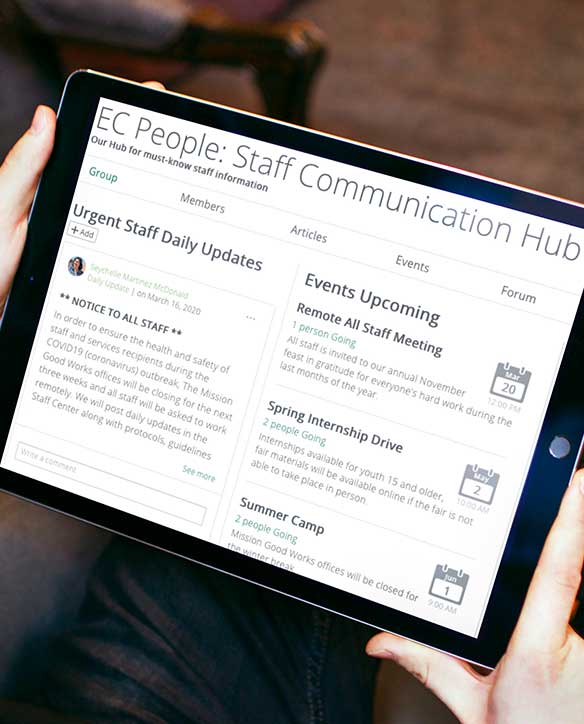 Communication
Private Chat
Forums
Posts
Event Scheduling
Resource Libraries
Photo Galleries
Simple Surveys
Publish in any language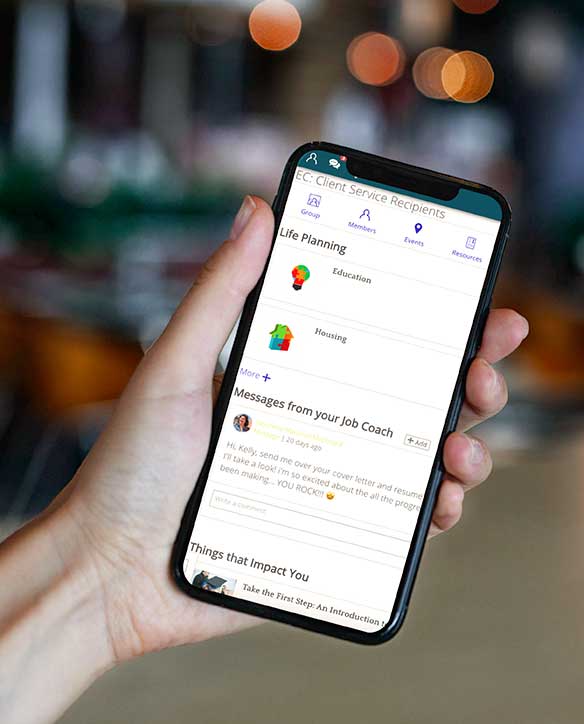 Capacity and Reach
Client Service Centers
Client Communication and Resources
Email/Text Notifications
Personalized Branding
Interface with Case Management Software
Goal Setting/Outcome Reporting
Engagement Analytics
Meet our Business Partners
Flexible and Committed
"Engagement Communities helps families find our services, which then allows us to give more children the best possible chance for reaching their potential."
Jessie Whitesides
of Easter Seals North Texas Child Care Program

Amplifying Partner Engagement
"We use an Engagement Communities hub for our virtual PENCIL partners. We support public education and students, so we're really in the relationship business. We are putting a great technology hub in place to support our great relationships."
Angie Adams
President & CEO, PENCIL Helping young people achieve academic success

EC Software Pricing
No Seat Limit

-

No Storage Limit

-

24/7 Help Center Access


All packages include access to all 30+ EC connection, communication and collaboration tools. Contact our Community Engagement Representative for details on our very affordable pricing packages (sales@missionbox.com)
Featured articles from the MissionBox Global Publication